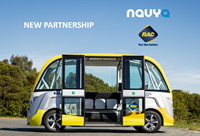 RAC has expanded its partnership with the French-based designer and manufacturer of its RAC Intellibus™, NAVYA, to help facilitate further deployments of autonomous vehicle technology in Australia and overseas.
RAC Group CEO, Terry Agnew, said the partnership will deliver expertise and knowledge of autonomous vehicle systems and technology to help establish further trials, and will also increase opportunities for further innovation and community engagement.
"This exciting collaboration will see RAC coordinate the on-site commissioning of NAVYA vehicles in Australia, New Zealand, parts of South East Asia and Japan as well as providing a range of technical support services," Mr Agnew said.
"We are also focussed on continuing to put automated technology to the test to help save lives and stop serious injuries on our roads, with human error estimated to cause around 90 per cent of road crashes.
"With NAVYA autonomous vehicles being fully electric, this partnership also supports the development of environmentally sustainable transport options into the future."
NAVYA CEO Christophe Sapet said the partnership will help ensure more people can experience automated vehicles and will support the fast-paced growth and global reach of NAVYA's vehicle fleet.
"NAVYA is successfully delivering an ambitious program to deploy our smart mobility systems all over the world and securing local technical support for our vehicle fleet reinforces NAVYA's strong commitment to provide its customers with the best possible services in a timely fashion," he said.
"RAC is already trialling NAVYA vehicles in Western Australia and the partnership provides the potential for driverless vehicles to be operated in different environments across Australia and also internationally, including New Zealand, South East Asia and Japan."
In an Australian first, RAC, with the support of the WA State Government, launched the RAC Intellibus™ in South Perth in August 2016, with more than 7,000 people registering to take part in the trial so far. The driverless, electric shuttle is designed to complement the existing public transport network by transporting passengers across the first and last mile.
"A longstanding objective of launching Australia's first driverless vehicle trial in South Perth is to encourage and develop further trials, build research and also encourage wider collaboration. Ultimately our aim is to increase the understanding of how driverless vehicles can be integrated in to our transport system, and how they could best benefit the community," Mr Agnew said.
"As one of the most progressive shuttle trials in the world, every aspect of the RAC Intellibus™ project has been aimed at enhancing our experience and understanding of driverless technology. We're continuing our own trials in WA, also contributing to a number of national working groups and research initiatives, and assisting with the development of policy to help ensure Australia is ready for the inevitable arrival of driverless vehicles.
"The more government, industry and the public all learn about and engage with driverless vehicles, the more prepared we will be to transition them on to our roads."
About NAVYA
NAVYA, created in 2014, is a French company and leading name in the development of innovative, smart and sustainable mobility solutions. NAVYA develops driverless, automated electric vehicles that are dedicated to first and last mile and independent of all infrastructure. October 2016 saw NAVYA secure a 30 million euro raise in capital together with its original shareholder, investment fund Robolution Capital, Cap Decisif Management with the FRCI Fund (Fonds Régional de Co-investissement de la Région Ile de France), holding company GRAVITATION, French groups VALEO and KEOLIS and GROUP8. NAVYA benefits from major advances in technology in the driverless, electric vehicle sector thanks to a highly-qualified R&D team. Christophe Sapet, its CEO, is supported by a team of 100 people divided up between Lyon and Paris.