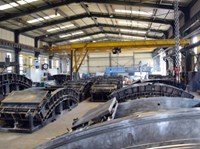 The Rail Agency, Roads and Transport Authority (RTA), has inspected work progress as well as the compliance with the technical specifications in manufacturing molds for casting concrete slabs for Route 2020 Project; which are being manufactured in the Republic of South Korea.
In this regard, a technical delegation from the Rail Agency, comprising the project consultant & contractor, has made a visit to Korea to inspect the work progress and verify the compliance of the factory with the conditions, requirements & specifications of Route 2020 Project. The delegation inspected and tested the accuracy & quality of the manufacturing of molds, and verified the accuracy of their final assembly to ensure their compliance with the project specifications.
Abdul Mohsen Ibrahim Younes, CEO of Rail Agency, RTA, said, "The RTA is keen to use state-of-the-art technology in constructing its strategic public transport projects. It seeks to fulfil the highest global standards & specifications through collaboration with advanced countries in order to benefit from their long & diverse experience in this regard."
It is noteworthy that Route 2020 Project, which is currently underway, will link the Red Line of the Dubai Metro from Nakheel Harbour & Tower Station to the site of Expo 2020. The project, which has a cost of 10.6 billion dirham, extends 15 km: 11.8 km a viaduct, and 3.2 km underground track. The project adds seven stations to the Red Line comprising a transfer station, a station at Expo, three elevated stations and two underground stations.
About The Roads and Transport Authority of Dubai
Since Dubai is one of the fastest growing cities in today's world, making the provision of high quality infrastructure facilities absolutely imperative, and since providing an advanced transport network for the people of Dubai has been high on the government's agenda, which is evident from its initiatives to enhance the public transport facilities and improve roads across the emirate to make travel safer and smoother.