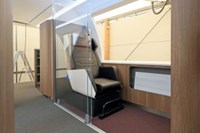 E-Leather have been announced as an official partner of the Deutsche Bahn Idea Train launched in Nuremburg, Germany on 7th November, 2017.
The "Ideenzug" or "Idea Train" is an innovative project that showcases what rail interiors of the future could look like. The project is the brainchild of Christoph Kraller, head of DB regional train subsidiary 'Südostbayernbahn' and contains a variety of different modules that cater for the evolving needs of its passengers.
DB have conceptualised a number of cabins and features on the Idea Train including privacy pods, noise-cancelling chairs for business travellers, a children's play area for families and a fitness studio complete with exercise bikes and digital fitness coaches.
E-Leather partnered with DB and design agency Neomind to develop innovative seating designs in a number of the trains showcase modules, which you can see below.
The E-leather material has been a big success with the DB Idea Train team, resulting in wide adoption in multiple cabins and seating designs.
Alexandra Bennett, Business Manager Ground Transport said: "We are extremely proud to be part of the DB Idea Train and support the development of this innovative project. We invested heavily in a rigorous colour matching and sampling process to present new design concepts based on DB's initial illustrations. This has resulted in DB taking those designs forward and realising them in multiple areas within the concept train."
About E-Leather
E-Leather's entire manufacturing process is based on our passion to provide an eco-friendly material that out-performs traditional leather, faux leathers and fabrics.
Since the formation of E-Leather in 2006, the company has honoured the vision of our founder Chris Bevan, and his commitment to the development of a clean technology product and culture.
E-Leather is created to perform to specific requirements. Designed and manufactured without compromise, E-Leather produces great looking and easy to maintain bus interiors. Compared to moquette and traditional leather, E-Leather generates production cost savings and reduced operating costs. E-Leather will meet and exceed the needs of interior designs, purchasing, engineers, crew, maintenance teams and most importantly your customers.