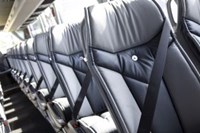 E-Leather will be exhibiting their engineered leather composite materials at Busworld, Kortrijk from 20th until 25th October and are excited to showcase the latest innovation that has been specifically engineered for their bus and coach collection.
E-Leather has been supplying sustainably manufactured, high-performance materials to the transport industry for ten years and has become the interior seating material of choice for a number of reasons. It's inherently lightweight structure combined with enhanced durability means operators can reduce costs in fuel and maintenance, or repairs, as their seats maintain a higher quality and cleaner finish for longer periods of time. Using at least 50% leather fibre in every roll means the materials have the quality look and feel of traditional leather, with the consistency of an engineered product. It also dramatically reduces waste in manufacturing and increases yield compared to a leather hide.
Alex Bennett, Business Manager Ground Transport says: "We can help operators achieve highly desirable interiors through a vast range of colours, designs and finishes, helping their vehicle stand out while improving operational costs and providing a better passenger experience."
To discover what's happening in the world of material innovation, visit E-Leather in Hall 3, Stand 311
About E-Leather
E-Leather's entire manufacturing process is based on our passion to provide an eco-friendly material that out-performs traditional leather, faux leathers and fabrics.
Since the formation of E-Leather in 2006, the company has honoured the vision of our founder Chris Bevan, and his commitment to the development of a clean technology product and culture.
E-Leather is created to perform to specific requirements. Designed and manufactured without compromise, E-Leather produces great looking and easy to maintain bus interiors. Compared to moquette and traditional leather, E-Leather generates production cost savings and reduced operating costs. E-Leather will meet and exceed the needs of interior designs, purchasing, engineers, crew, maintenance teams and most importantly your customers.