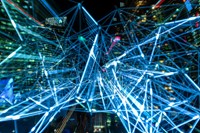 Nokia's Nuage Networks has formed a technology partnership with e-Qual, a French hybrid network services provider, to provide SD-WAN services in over 60 countries worldwide. This service is based on the Nuage Networks Virtualized Network Services (VNS) solution and is managed independently of underlying enterprise WAN services. e-Qual's enterprise customers will have a single consistent management interface for all their operations, with complete flexibility to manage their own connectivity, including branch access over the public internet.
Over 75% of enterprises are moving their operations from private data centers to the cloud. Many of their branch operations now rely on the public internet for WAN connectivity. The Nuage Networks SD-WAN solution provides e-Qual's customers with a managed service platform for unified control and management of their global network operations - cloud, headquarters, branch offices and remote users - independent of the WAN services used.
The Nokia Nuage Networks VNS will provide e-Qual with automation, improved flexibility, application-aware routing and per-application security. The solution provides e-Qual's customers with a fully-managed SD-WAN service with a self-service VPN portal to quickly and securely connect branch employees with central cloud-based applications and services, worldwide.
Philippe de Lussy, CEO of e-Qual, said: "We are excited to form this technology partnership with Nokia. The Nuage Networks SD-WAN solution provides us and our customers with openness, scalability and the agility that today's market conditions demand."
Sunil Khandekar, founder and CEO of Nuage Networks from Nokia, said: "As a pure managed services player, e-Qual is redefining the market for enterprise WAN services. Our technology provides a flexible and open SD-WAN infrastructure for e-Qual to deliver the business services that allow its enterprise customers to move to the cloud with the agility and visibility they need."
About Nokia

Nokia create the technology to connect the world. Powered by the research and innovation of Nokia Bell Labs, they serve communications service providers, governments, large enterprises and consumers, with the industry's most complete, end-to-end portfolio of products, services and licensing. They adhere to the highest ethical business standards as we create technology with social purpose, quality and integrity. Nokia is enabling the infrastructure for 5G and the Internet of Things to transform the human experience.