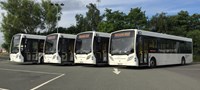 With business booming and passenger numbers heading towards record levels at Manchester Airport four new Enviro200s have arrived on the scene to help cope with the upsurge in demand.
In a deal that was concluded in a matter of weeks Andy Willis, the airport Transport Manager, was delighted in the joint approach between Alexander Dennis Limited (ADL) and Mistral Bus and Coach Rentals.
He commented: "Such has been the increase in passenger numbers that we needed vehicles fast. Thanks to the teamwork between ADL and their lease and rental partners at Mistral we were able to conclude arrangements and have the new buses operating in a period of just five weeks.
"The vehicles were modified to include extra racking for luggage and also have increased CCTV cameras for security reasons. They carry 60 passengers yet retain the super manoeuvrability for which the Enviro200 is famous, which is a big advantage when operating in and around the confines of a busy airport.
"With around 15 ADL buses already operating in our airport fleet we were always confident in the product but I cannot emphasis enough how delighted I have been with the rapid response from ADL and Mistral. They have done an outstanding job."
All four of the new Enviro200s are 10.8m, Euro5 vehicles powered by Cummins ISBe four-cylinder, 160PS engines with Allison S2100 transmissions.
About Alexander Dennis
Alexander Dennis Limited (ADL) is the UK's leading bus and coach manufacturer, employing around 2,000 people at facilities in the UK, continental Asia and North America.
The fastest growing bus and coach builder in Western Europe, ADL encompasses three famous and successful marques – Alexander, Dennis and Plaxton.
ADL produces a wide range of innovative and fuel efficient, low floor single and double deck buses, plus a full portfolio of coaches, welfare and mini vehicles.
ADL products offer real operator, passenger and environment benefits, all backed by an unswerving commitment to world class customer support.