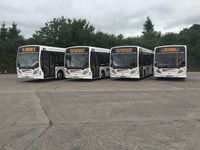 Perryman's Buses has invested £500,000 in four new Enviro200 midi buses.
The move comes as the company, which was acquired by West Coast Motors recently, stepped up its presence in the Borders by introducing three new bus routes.
The services run to Hawick (Route H1/H2), Selkirk, Bannerfield and Galashiels (Route 73) and Oxton and Earlston (Route 61).
All four of the Alexander Dennis Enviro200s are Euro5 9.6m 33-seat vehicles fitted with a range of bespoke features, including Civic V2 seats with safety belts, Mobitec LED destination equipment, sophisticated lighting and extended CCTV camera systems.
Charlie Miller, ADL's Regional Sales Manager, commented: "We have a long relationship with both West Coast Motors and Perryman's Buses and are delighted to be working with them as they strive to open up new routes across the Borders and, on other fronts, to increase the frequency of bus services between Berwick upon Tweed, Dunbar, Haddington and Edinburgh."
About Alexander Dennis
Alexander Dennis Limited (ADL) is the UK's leading bus and coach manufacturer, employing around 2,000 people at facilities in the UK, continental Asia and North America.
The fastest growing bus and coach builder in Western Europe, ADL encompasses three famous and successful marques – Alexander, Dennis and Plaxton.
ADL produces a wide range of innovative and fuel efficient, low floor single and double deck buses, plus a full portfolio of coaches, welfare and mini vehicles.
ADL products offer real operator, passenger and environment benefits, all backed by an unswerving commitment to world class customer support.