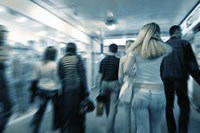 Envision announced today that it has formed a new partnership with California-based technology company Gimbal (opens in new window), a leading provider of location and proximity-based mobile engagement. This joint partnership will leverage Gimbal's proximity-based technology to work toward improving accessibility for the visually impaired across mass transit networks nationwide. The Gimbal platform connects users to more meaningful mobile engagements in the physical world, generating content and messaging based not only on users' physical location, but also on their personal preferences.
Envision and Gimbal will work together in onboarding mobile application developers who are focused on building applications and services for the visually impaired and transportation services. The companies will also work with transit authorities and out-of-home advertising providers to deploy beacon networks.
Public transportation is a major key to independence, productivity and community participation for the blind and visually impaired, said Rocco Fabiano, chief executive officer of Gimbal. Gimbal is committed to opening its platform to provide a broad array of community services and we are excited to see how our proximity technology can make mass transit more accessible through our work with Envision.
Envision President and CEO Michael Monteferrante is a former transit professional with key relationships across the transportation industry. We're on the ground floor of a new opportunity, not only for Gimbal and Envision, but for those who rely on transit across the world, said Monteferrante. This could revolutionize accessibility to transit, most especially for those who are blind or visually impaired, which is a natural fit for the mission of Envision.
Dave Etherington, chief strategy officer of Titan, an out-of-home advertising company that sells advertising space designed to target people in transit, says he is optimistic about the opportunities the new partnership holds in store.
As a leader in working with municipalities and transit authorities, Titan applauds this partnership between Gimbal and Envision, as we work to make this world more accessible for everyone, said Etherington. We see this partnership benefitting the future of mass transit for the visually impaired by providing access to services in a way that was previously unimaginable.
Partnering with Gimbal is the latest development in Envision's strategy to diversify its business operations to ensure steady streams of revenue for its programs and services. About Gimbal, Inc.
Gimbal, Inc. is connecting brands, venues, events and retailers with their customers in exciting new ways by providing leading-edge mobile technologies and solutions. With advanced geofencing, the world's largest deployment of industry-leading Bluetooth Smart beacons, location-based engagement, analytics, unmatched security features and privacy controls, the Gimbal platform helps drive mobile app engagement and loyalty. Visit www.gimbal.com (opens in new window) for more information.
About Envision
Envision promotes advocacy and independence for those who are blind or low vision. Founded in 1933, the Wichita-based Envision is one of the largest employers of individuals with vision loss in the nation.