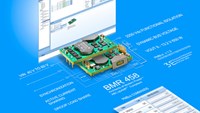 New third-generation BMR458 quarter-brick advanced bus converter delivers up to 650W for range of Information and Communication Technologies (ICT) applications

Tightly regulated output voltage over the full operational input range of 40V to 60V

Designed to meet the demands of high-end and high power applications based on intermediate bus conversion (IBC) and dynamic bus voltage (DBV) architectures

Output current monitoring of +/-1A, delivers highly accurate system monitoring capability
Ericsson Power Modules today announces the BMR458, a third-generation 3E* quarter-brick advanced bus converter that delivers industry-leading performance to system architects developing equipment for Information and Communication Technology (ICT) applications, including datacom and server and storage systems. The module is ideal for high-power applications that are powered by multi-cell batteries or rectifiers commonly used in the ICT industry and employ intermediate bus conversion (IBC) or dynamic bus voltage (DBV) architectures.
The BMR458 represents the cutting edge of technology for advanced bus converters and comes with a host of features. These include the highest power delivery (650W) in the industry for a quarter-brick advanced bus converter, thereby reducing the number of required modules in very high power applications; and highly accurate current sharing, as well as it being the only advanced bus converter available today to offer active- or droop-current sharing. Other key features including dynamic load compensation, snapshot parameter capture, and a PMBus v1.3 interface.
Key electrical characteristics of the module include class-leading high efficiency of up to 96.6% at half load and 96.3% at full load; maximum current output of 54.2A; tightly regulated 12V output (+/–2mV, typical) across the 40 to 60V input voltage range; output current monitoring of +/-1A to enable highly accurate system monitoring capability; and a fast transient recovery time of only 1ms. Further specifications include: an MTBF of 8.2 million hours; and I/O functional isolation of 2250Vdc, which meets the latest IEC/EN/UL60905 safety standard.
The groundbreaking BMR458 has been built to the highest quality design and manufacturing standards, enabling Ericsson to deliver to customers a continued high level of confidence in its power modules.
* Enhanced Performance, Energy Management, and End-user Value are the key benefits delivered by Ericsson's range of 3E digitally controlled DC/DC converters.
About Ericsson
Ericsson is the driving force behind the Networked Society - a world leader in communications technology and services. Our long-term relationships with every major telecom operator in the world allow people, business and society to fulfill their potential and create a more sustainable future.
Our services, software and infrastructure - especially in mobility, broadband and the cloud - are enabling the telecom industry and other sectors to do better business, increase efficiency, improve the user experience and capture new opportunities.
With approximately 115,000 professionals and customers in 180 countries, we combine global scale with technology and services leadership. We support networks that connect more than 2.5 billion subscribers. Forty percent of the world's mobile traffic is carried over Ericsson networks. And our investments in research and development ensure that our solutions - and our customers - stay in front.
Founded in 1876, Ericsson has its headquarters in Stockholm, Sweden. Net sales in 2015 were SEK 246.9 billion (USD 29.4 billion). Ericsson is listed on NASDAQ OMX stock exchange in Stockholm and the NASDAQ in New York.