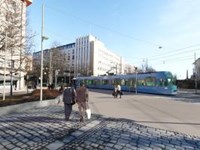 To meet the needs of the growing city and urban area, a modern tramline system has been designed for Tampere. Fostering sustainable transport projects, the European Investment Bank (EIB) has provided a EUR 150m loan to the City of Tampere for the construction of the first section of this tramline. It is 15 km long, links the city centre and eastbound suburbs and is scheduled to open in 2021.
EIB Vice-President Alexander Stubb said "I am happy to announce today that the EU bank is providing financing for this project. The first tramway line will make everyday life and transportation easier in Tampere. It also will make the city greener and transform it into a more attractive and accessible place to live and work, making the whole region more competitive. This underpins the values the EIB stands for."
"We are thankful for the financing and the support granted by the European Investment Bank. Tampere will be the second metropolitan area in Finland. The growth of our region is the second fastest in the country. This day takes us one step closer to our objective of having one of the smartest transport systems in Europe. We have initiated a Smart Mobility project, which aims to create an internationally recognised testing and innovation ground for smart traffic in the Tampere region", said the Mayor of the City of Tampere, Lauri Lyly.
The tramline project is very much needed in Tampere, which is one of the fastest growing urban regions in northern Europe – expecting to expand by 1% annually over the next 15 years. The construction of the tramline has been divided into two sections. Section 1, supported by the EIB, covers the construction of the 15 km route, linking the city centre (from Pyynikintori) and having two branches: one serving Hervanta and Tampere University of Technology; and the other serving the eastbound suburb of Tampere University Hospital (including the construction of a depot in Hervanta).
Today's EIB support for the City of Tampere builds on long and good cooperation. In 2001, the Bank co-financed the modernisation of the Naistenlahti cogeneration power plant and the upgrading of the city centre, in particular the former industrial sites of Tampella and Finlayson. Two years ago, the EIB also supported the construction of the Rantatunneli, the longest road tunnel in Finland.
About The European Investment Bank
The EIB is the European Union's bank. We are the only bank owned by and representing the interests of the European Union Member States. We work closely with other EU institutions to implement EU policy.