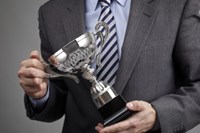 The European Commission announced the winners of the EUROPEANMOBILITYWEEK Award 2016 and of the 5th Award for Sustainable Urban Mobility Planning in the area of urban freight, during an award ceremony held in Brussels.
Malmö (Sweden) won the EUROPEANMOBILITYWEEK Award 2016 for its long-term focus on active transport modes such as cycling and walking. The 5th Award for Sustainable Urban Mobility Planning was attributed to Brussels (Belgium) for its successful freight strategy.
Commissioner for Transport Violeta Bulc said: "I'm inviting cities to come on-board and work with us, to help Europe meet its ambitious climate objectives. I would like to congratulate this year's finalists who showed that greener and smarter urban mobility is already possible. I was particularly impressed by the long-term strategies developed by Malmö to encourage active travel and by Brussels on sustainable freight. I hope they can inspire many others."
Commissioner for Environment, Maritime Affairs and Fisheries Karmenu Vella said: "Our quality of life in cities means getting from A-to-B quickly, but also breathing clean air and enjoying quiet and uncongested streets. Brussels and Malmö have both shown in their own innovative ways that it is possible to make progress. I congratulate both of them."
Transport is responsible for around a quarter of all EU's greenhouse gas emissions and is a major cause of air pollution and related health problems in urban areas. Many cities are already at the forefront in the shift to low-emission mobility, and it is the Commission's aim to further support them.
Today's awards showcase some innovative solutions that can be replicated elsewhere in Europe.
Learn more about the winners: Malmö and Brussels
Malmö – winner of the EUROPEANMOBILITYWEEK Award 2016
Malmö, the third largest city in Sweden, receives the award for its efforts in promoting active travel and prioritising pedestrians and cyclists. Malmö has also implemented a series of permanent measures such as turning a major shopping street into a care-free zone, making its city centre safer and more attractive to local residents; and has set up a new bike-sharing system offering 500 bicycles at 50 stations.
Malmö is also successful in partnering with local businesses, proving that smart and sustainable mobility can have a positive impact on the local economy. Moreover, its strong public communication and dialogue was also appreciated by the jury.
Lisbon (Portugal) and Skopje (former Yugoslav Republic of Macedonia) were the two other finalists for the EUROPEANMOBILITYWEEK Award 2016.
Brussels – winner of the 5th Award for Sustainable Urban Mobility Planning in the area of urban freight
Brussels, city-region and home to 1.18 million people, succeeded in developing a strategic plan for freight transport that is well integrated within the passenger mobility strategy. The jury appreciated its innovative approach in identifying problems, finding opportunities and selecting the most relevant measures. Brussels supports private sector initiatives for improved urban logistics, and consolidation efforts, including the use of consolidation centres, to increase efficiency and reduce the number of freight kilometres in the city. Aiming to reduce the adverse impact of freight, including congestion, emissions and noise, Brussels also makes strategic use of its involvement in national and European projects to help achieve the city's goals.
The other finalists were Budapest (Hungary) and Stockholm (Sweden).
Malmö and Brussels were selected by an independent panel of mobility and transport experts and will receive a promotional video highlighting their achievements.
About The European Comission
The aim of the Commission is to promote a mobility that is efficient, safe, secure and environmentally friendly and to create the conditions for a competitive industry generating growth and jobs. The issues and challenges connected to this require action at European or even international level; no national government can address them successfully alone. The European Commission's Directorate-General for Mobility and Transport works in concert with the European Union Member States, European industry, citizens and stakeholders.