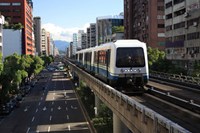 The European Commission today launches the 15th annual EUROPEANMOBILITYWEEK, with activities taking place across Europe from 16 to 22 September. The theme this year is 'Smart and sustainable mobility – an investment for Europe'.
The main aim is to promote awareness of the economic benefits of investing in safe, clean transport for people and companies. Making energy and transport more affordable and sustainable is also one of the priorities of the Juncker Commission. Action in cities is particularly important as urban transport is responsible for 23% of EU's greenhouse gas emissions.
As in previous years, local authorities and individuals across the continent are encouraged to think about what they can do locally, to make an impact globally. Speaking at the launch of EUROPEANMOBILITYWEEK 2016, Violeta BULC, European Commissioner for Transport said: "This week is about getting individuals and local authorities big and small - on board. We are moving towards smart mobility, by integrating technology into transport. Smart mobility can reduce traffic jams in European cities and help cut the €100 billion congestion price-tag, making our cities more liveable!"
Getting out of the car and walking, cycling or taking the bus can have benefits such as improving our health. But research shows that smarter mobility can also make the public finances healthier. The Commission estimates that road congestion costs 1% of the EU's GDP per year – that's €100 billion euro last year, this year and every year. Smarter mobility can reduce traffic jams in European cities and help cut that 100 billion euro congestion price-tag.
The culmination of the week is the Car-Free Day, during which designated areas of towns and cities are closed to car traffic and open only for pedestrians, cyclists and public transport.
EUROPEANMOBILITYWEEK is a highlight in a year-round drive for more sustainable mobility. The campaign serves to encourage and inspire those involved, to think about more long-term, permanent changes that could be made to improve transport.
For example, since April 2016 the University of Aveiro, Portugal has been recording large amounts of data on transport habits to help policy makers' work towards a low carbon economy; in the Spanish city of Albacete a group of people have created a company called Urbanciclo to transport goods by cargo-bike ; in the Italian town of Casalmaggiore, the NGO Slow Town presented in May 2016 a 2 km children's ring road along the bank of river Po, creating a safe route closed to road traffic to get to school, library, gym and downtown; campaigners from Spain, Sweden and the UK joined forces to ride 2000 km from Stockholm to Brussels last summer to advocate for safer cycling; between March and October 2016 Natuur & Milieu organised the 'car sharing award for Dutch municipalities' to stimulate the use of this transport method in the Netherlands.
These are but a few examples. All of the registered MOBILITYACTIONS are displayed on the EUROPEANMOBILITYWEEK website .
About The European Commission
Transport directly affects everyone in Europe. Whatever age we are, and whatever activities we undertake, transport and mobility play a fundamental role in today's world. The aim of the Commission is to promote a mobility that is efficient, safe, secure and environmentally friendly and to create the conditions for a competitive industry generating growth and jobs. The issues and challenges connected to this require action at European or even international level; no national government can address them successfully alone. The European Commission's Directorate-General for Mobility and Transport works in concert with the European Union Member States, European industry, citizens and stakeholders.