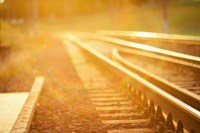 EU countries have approved the European Commission's proposal to invest €22.1 million to support seven actions that will help develop sustainable and efficient transport and energy infrastructure. They will receive funding from the Connecting Europe Facility (CEF)'s Synergy call. They were chosen as they will create connections between Trans-European Networks for Energy (TEN-E) and the Trans-European Networks for Transport (TEN-T), which identify regions where better links between EU countries in energy and transport respectively are needed.
The seven actions include an assessment of options for building a pipeline that would carry Liquefied Natural Gas (LNG) from Italy to Malta for use as a marine fuel, the development of a cross-border electricity smart grid increasing the energy efficiency of the Croatian railway system, and the creation of electricity storage systems strategically located on key transport corridors between Austria and Germany.
EU Commissioner for Transport Violeta Bulc stated: 'European transport still depends on oil for 94% of its energy needs. That is why the EU is investing in seven projects to speed up the deployment of alternative energy sources, with a special focus on electrification and multimodal transport.'
EU Commissioner for Climate Action and Energy Miguel Arias Cañete noted: 'Enabling synergies between the transport and energy sectors will enhance the effectiveness of EU funding and will contribute to the further integration of the internal energy market. The successful conclusion of the first CEF synergy call is yet another milestone in the achievement of our long-term decarbonisation objectives'
Each action contributes to a Project of Common Interest (PCI). PCIs are energy infrastructure projects that are considered crucial to completing Europe's internal energy market and meeting the EU's energy policy objectives of affordable, secure and sustainable energy. They are eligible to apply for CEF funding and receive other benefits.
About The European Comission
The aim of the Commission is to promote a mobility that is efficient, safe, secure and environmentally friendly and to create the conditions for a competitive industry generating growth and jobs. The issues and challenges connected to this require action at European or even international level; no national government can address them successfully alone. The European Commission's Directorate-General for Mobility and Transport works in concert with the European Union Member States, European industry, citizens and stakeholders.