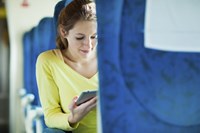 The European Commission presented today an initiative under the Erasmus+ programme which further supports learning and mobility of young Europeans. Called "Move2Learn, Learn2Move", it will enable at least 5,000 young citizens to travel to another EU country in a sustainable manner – individually or together with their school class. The one-off initiative, which is linked to the 30th anniversary of the Erasmus programme, is consistent with two central priorities of the Commission: to put a renewed focus on Europe's youth, and to facilitate EU citizens' mobility, particularly low emission mobility.
Move2Learn, Learn2Move builds on an idea put forward by the European Parliament in 2016. It will be implemented through eTwinning, the world's biggest teachers' network. Part of Erasmus+, it enables teachers and pupils across Europe to develop projects together through an online platform.
Commissioner for Education, Culture, Youth and Sport, Tibor Navracsics, said: "Building on the success of eTwinning, this initiative will enable young people to discover and experience first-hand different countries and cultures across Europe. On the occasion of the 30th anniversary of Erasmus, this will be another example of this EU success story bringing people together, helping them to develop a feeling of what it means to be European."
Commissioner for Transport Violeta Bulc said: "Transport is not about tracks, ships or motorways; it is about people. We want to give young Europeans the chance to discover Europe. We also want to encourage them to travel in an environmentally friendly way, which is why CO2 emissions will be taken into account. I am also happy that we can count on the active participation of transport operators to help strengthen the initiative."
The initiative will be open to school classes of students aged 16 and above taking part in eTwinning. They are invited to indicate whether they want to be considered for free travel tickets which will be awarded for the best eTwinning projects in each participating country. Social inclusion will be an important criterion in the selection of the best projects. Once the winners have been picked, they will be able to travel from August 2017 until December 2018, at a date of their choice. Students will either travel in a group as part of a school trip or individually, depending on the decision of parents and teachers.
All transport modes, operators and lines can be selected, taking into account sustainability criteria and points of departure and destination of the participating students. Some operators are supporting the initiative by offering a special rebate to the participants. These operators are: Aegean Airlines, Air Dolomiti, ALSA Grupo, Azores Airlines, Brussels Airlines, Comboios de Portugal, Croatia Airlines, Deutsche Bahn, Hahn Air, Iberia Express, Interrail, Luxair, Naviera Armas, Olibus, SNCF, Transferoviar Calatori, Trenitalia, Vueling and Westbahn.
The Commission encourages other operators to join the initiative.
About The European Comission
The aim of the Commission is to promote a mobility that is efficient, safe, secure and environmentally friendly and to create the conditions for a competitive industry generating growth and jobs. The issues and challenges connected to this require action at European or even international level; no national government can address them successfully alone. The European Commission's Directorate-General for Mobility and Transport works in concert with the European Union Member States, European industry, citizens and stakeholders.