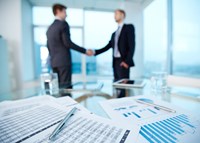 Wabtec Corporation (NYSE: WAB) has acquired majority ownership of Faiveley Transport S.A. (Euronext Paris: LEY), after completing the purchase of the Faiveley family's stake, which represented about 51% of the company's shares outstanding. Wabtec plans to launch a tender offer for the remaining public shares in December.
Faiveley Transport is a leading global provider of value-added, integrated systems and services for the railway industry with annual sales of about $1.2 billion.
Albert J. Neupaver, executive chairman of Wabtec, said: "The acquisition of Faiveley Transport is an excellent strategic fit, expanding our geographic presence, broadening our product and service capabilities, and strengthening our technology and innovation initiatives. The combination of two rail industry leaders creates compelling growth opportunities and synergies, and strengthens the diversity of our revenue base. We're pleased to welcome the Faiveley family as long-term Wabtec shareholders with representation on our Board of Directors."
Wabtec acquired the family stake for about $212 million in cash and 6.3 million shares of Wabtec common stock. Through the tender offer, the public shareholders of Faiveley Transport will have the option to elect to receive €100 per share of Faiveley Transport in cash or 1.1538 Wabtec common shares per share of Faiveley Transport. The total purchase price for 100% of the shares of Faiveley Transport is about $1.7 billion, including assumed debt and net of cash acquired. The $1.2 billion cash portion of the transaction will be funded from about $325 million of cash on hand, the net proceeds from a recent $750 million senior notes offering and the company's existing revolving credit facility and term note.
The strategic combination of Wabtec and Faiveley Transport creates one of the world's leading rail equipment companies, with revenues of about $4.2 billion and a presence in all key transit and freight rail regions worldwide. Wabtec now expects to realize at least $50 million in annual pre-tax synergies from the combination by year three, and the transaction will be accretive to Wabtec's earnings per diluted share in 2017.
Raymond T. Betler, Wabtec's president and chief executive officer, said: "Our combination with Faiveley Transport brings Wabtec many complementary products, a strong presence in the European and Asia Pacific transit industries, and solid relationships with blue-chip, global customers. Together, we will be a more efficient global competitor, with a focus on technology, quality and customer service, and a singular mission: to help customers improve their safety, productivity, and efficiency."
Stéphane Rambaud-Measson, chairman of the Management Board and chief executive officer of Faiveley Transport, has joined Wabtec as president and CEO of its Transit Group and as a corporate executive vice president, reporting to Betler. Also, Philippe Alfroid and Erwan Faiveley were elected as new members of the Wabtec Board of Directors.
Rambaud-Measson said: "Wabtec's Transit Group, under the Faiveley Transport brand name, will pursue its objective to be a global leader in railway equipment and services. The passenger transit business typically provides a steady flow of new projects and aftermarket growth opportunities, and we are well positioned in key global markets such as Europe and Asia Pacific."
2016 Guidance Update
Including the effects of the acquisition, Wabtec updated its 2016 guidance as follows:
Full-year revenues are expected to be down about 10% to about $2.95 billion.
Full-year, GAAP earnings per diluted share are expected to be between $3.45-$3.50. During 2016, the company expects to record restructuring and transaction-related costs of about $60 million pre-tax and a one-time effective tax rate adjustment for non-deductible transaction costs that will result in additional tax expense of about $10 million. These items equal about 50 cents per diluted share after-tax.
Excluding the restructuring and transaction-related costs, and the tax-rate adjustment, Wabtec expects full-year adjusted earnings per diluted share to be between $3.95-$4.00.
2017 Preliminary Information
Including the effects of the acquisition, Wabtec provided the following preliminary information for the full year of 2017:
Revenues are expected to be about $4.2 billion.
Excluding restructuring and transaction-related costs, adjusted operating margin is expected to be about 15-16%.
Excluding restructuring and transaction related costs, adjusted earnings are expected to be about 8% higher than the company's adjusted earnings in 2016.
Wabtec will update this preliminary information when the company reports its 2016 results.
Wabtec will host a call with analysts and investors at 10 a.m., U.S. eastern time, today. To listen, go to www.wabtec.com and click on the "Webcasts" tab in the "Investors" section. Included with this press release is a presentation that will be discussed during the call.
About Wabtec
Wabtec Corporation is a global provider of value-added, technology-based products and services for freight rail, passenger transit and other industrial segments. The company manufactures a range of products for locomotives, freight cars and passenger transit vehicles, new switcher and commuter locomotives and provides aftermarket services.
About Faiveley
Faiveley Transport is a global supplier of high added value integrated systems for the railway industry. The company supplies manufacturers, operators and railway maintenance bodies worldwide with the most comprehensive range of systems in the market: Energy & Comfort (air conditioning, power collectors and passenger information systems), Access & Mobility (passenger access systems and platform doors), Brakes & Safety (braking systems and couplers) and Services.