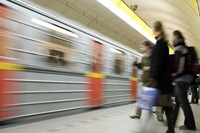 Faiveley Transport has been awarded a multi-million contract by MHI Transportation Systems Brasil Limitada (MTSB), a brazilian subsidiary of Mitsubishi Heavy Industries, LTD., for the supply of Platform Screen Doors for the metro Line 6 of São Paulo, Brazil.
With approximately 15.3km and 15 new stations, the line 6, also known as the Laranja (orange) line will run between the Brasilândia and São Joaquim stations. This new line represents a huge step forward in the development of the metropolitan transportation system to alleviate major traffic congestion problemsin the densely populated Brazilian city. Once commissioned, it is expected to carry more than 630,000 passengers per day.
Faiveley Transport's scope of supply includes the study, design, manufacturing, delivery, installation and commissioning of full-height platform screen doors for 30 platforms with a total of 3, 960 meters of façade to prevent passenger accidents and ensure safer train operation.
Many of the Group's sites will be involved: engineering will be managed by the Saint Pierre des Corps (France) site, Faiveley Transport's Platform Screen Doors Centre of Competence, while manufacturing will take place in Shanghai (China), with the support of the Hong Kong (China) site. Project management, customer interface, installation, testing and commissioning will be handled by the São Paulo (Brazil) site.
Deliveries are expected to be completed in2020.
Rémi Causse, President of the Access & Mobility Division, said: "We are very pleased to work with Mitsubishi Heavy Industries on this project. This contract allows Faiveley Transport to maintain its position as leader on the Platform Screen Doors market in Latin America. It also demonstrates our capacity to be a long-term partner by supporting new customers in all regions of the world thanks to our understanding of the project's requirements and expertise of the entire Platform Screen Doors value chain acquired over 30 years of experience."
About Faiveley Transport
Faiveley Transport is a global supplier in integrated systems for the railway industry.
The Group supplies manufacturers, operators and railway maintenance bodies worldwide with the most comprehensive range of systems in the market: Energy and Comfort (heating, ventilation and air conditioning ; power collectors and convertors, information and safety systems), Access and Mobility (platform doors & gates and access doors), Brakes and Safety (braking systems and couplers) and Services.
With more than 5500 employees in 24 countries, Faiveley Transport generated sales of €982 million for the 2013/2014 financial year.