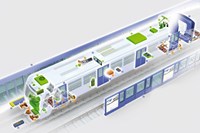 As part of the DMRC (Delhi Metro Rail Corporation) Indian rail operator's fleet extension programme, Faiveley Transport has been awarded a series of contracts worth over €20 million by Bombardier Transportation to supply a complete range of state-of-the-art railway systems for 162 new cars for the New Delhi metro.
The contracts awarded to Faiveley Transport cover a wide range of railway systems, including braking systems (brake control devices, air generation and treatment units, brake disc units and other auxiliary equipment), compact saloon HVAC systems (Heating, Ventilation and Air Conditioning), pantographs, and access and cabin door systems. Faiveley Transport will be responsible for the design, manufacture, and supply of the equipment. Delivery is expected to start by mid 2016.
Faiveley Transport systems will equip the 162 BOMBARDIER MOVIA metro cars ordered from Bombardier Transportation to increase the number of DMRC's existing fleet of MOVIA metro cars from 614 to 776 vehicles, which will comprise both new trains and additional cars for existing trains. This expansion programme will make it one of the largest metro fleets in the world, and one of the largest to be supplied, and supported by Faiveley Transport.
In the past, the Group has already supplied its systems for the Delhi metro fleet. However, the latest metro cars will include features that will improve safety and comfort while also significantly increasing availability and reliability. While the door systems will be supplied from Shanghai (China), braking systems, HVAC and pantographs will come from Faiveley Transport's Indian facility of Hosur, in the state of Tamil Nadu, confirming the Group's commitment to meeting its customers' growing expectations for local production in India.
Simon Charlesworth, Faiveley Transport's Sales & Marketing Vice President, said, "After being awarded many metro contracts over the years in Delhi, Chennai, Bangalore, Hyderabad, Jaipur and more recently in Kochi, we are proud to win these new contracts for the New Delhi metro project and to strengthen our position in the Indian metro segment, a high growth sector in the country. Faiveley Transport is a key player in the promising railway industry in India, one of the key strategic markets for our Group. In that sense, and as part of its Creating Value 2018 Strategic Plan, Faiveley Transport plans to develop its industrial presence in India, with the dual objective of supporting the growth of the local market and supporting our major car builder customers in their Indian export hubs."
About Faiveley Transport
The Group supplies manufacturers, operators and railway maintenance bodies worldwide with the most comprehensive range of systems in the market: Energy and Comfort (heating, ventilation and air conditioning ; power collectors and convertors, information and safety systems), Access and Mobility (platform doors & gates and access doors), Brakes and Safety (braking systems and couplers) and Services.
With more than 5500 employees in 24 countries, Faiveley Transport generated sales of €982 million for the 2013/2014 financial year.