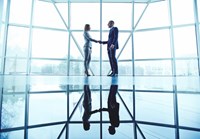 Faiveley Transport entered today into exclusive discussions with a French industrial for the sale of Faiveley Transport Gennevilliers, the sintered brake material company of Faiveley Transport, representing sales of around €12 million.
The execution of the share purchase agreement could be made once the procedures relating to the information and consultation ("info-consultation") of the competent employee representative bodies of Faiveley Transport and Faiveley Transport Gennevilliers have been made.
As a reminder, the European Commission gave clearance for the proposed combination between Wabtec and Faiveley Transport, conditional upon a commitment to divest Faiveley Transport Gennevilliers.
In any event, the completion of the proposed combination of Faiveley Transport and Wabtec remains only subject to the approval of the purchaser of Faiveley Transport Gennevilliers by the European Commission, which could happen in the coming weeks. The acquisition of the Faiveley family stake by Wabtec remains thus expected to occur in Q4 2016.
About Faiveley Transport
Faiveley Transport is a global supplier in integrated systems for the railway industry.
The Group supplies manufacturers, operators and railway maintenance bodies worldwide with the most comprehensive range of systems in the market: Energy and Comfort (heating, ventilation and air conditioning ; power collectors and convertors, information and safety systems), Access and Mobility (platform doors & gates and access doors), Brakes and Safety (braking systems and couplers) and Services.