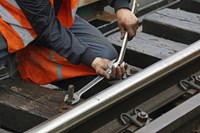 On 1 June 2016, Faiveley Transport officially opened Faiveley Transport Czech a.s., its new industrial site in Plzen, in the Czech Republic. The opening ceremony was attended by local authorities, European customers, company representatives as well as Stéphane Rambaud-Measson, Chief Executive Officer and Chairman of the Management Board of Faiveley Transport.
Faiveley Transport Czech is a new state-of-the-art industrial facility dedicated to the manufacture of railway systems. It covers pantographs, power collectors and converters assembly operations, and is also being developed to include the assembly of couplers, buffers, brakes and doors components, which will involve all Faiveley Transport Products and Services Divisions.
Following nine months of construction work, the new site opened its doors in early January 2016 to some 300 employees. The facility comprises manufacturing, inbound and outbound warehouses, and office space covering a total area of approximately 20,000 m2, and replaces former installations of Lekov, in Blovice, approximately 20 kilometres away. An additional 6,000m² could be utilised from January 2018. Along with optimized internal logistics, production flow, visual management and an improved working environment for employees, Faiveley Transport Czech is intended to accelerate change management and achieve industrial excellence.
The new site represents one of the largest investments made by Faiveley Transport in recent years as part as the Group's 2015-18 Strategic Plan.
During the opening ceremony, Stéphane Rambaud-Measson, Chief Executive Officer and Chairman of the Management Board of Faiveley Transport, stressed the importance of the new facility, saying, "The decision to open a new site in Plzen was made as part of our Strategic Plan to improve our performance and competitiveness. This new site reflects our ambition to operate as a market leader, providing the highest standards of quality to our customers and of safety to our employees. Furthermore, looking back at our Group's long-standing tradition of commitment within the Czech Republic, we are pleased to be contributing to the social and economic development of the Plzen Region."
About Faiveley Transport
Faiveley Transport is a global supplier in integrated systems for the railway industry.
The Group supplies manufacturers, operators and railway maintenance bodies worldwide with the most comprehensive range of systems in the market: Energy and Comfort (heating, ventilation and air conditioning ; power collectors and convertors, information and safety systems), Access and Mobility (platform doors & gates and access doors), Brakes and Safety (braking systems and couplers) and Services.
With more than 5500 employees in 24 countries, Faiveley Transport generated sales of €982 million for the 2013/2014 financial year.