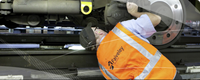 Faiveley Transport has been awarded a series of contracts by Bombardier Transportation to supply Braking Systems, Couplers, Cabin HVAC (heating, ventilation and air conditioning) and Auxiliary Converters for 355 newly ordered M7 double-decker train cars for SNCB in Belgium.
The contracts awarded to Faiveley Transport are worth more than €60 million. They cover braking systems (brake control and bogie brakes), couplers, cabin HVAC (heating, ventilation, and air conditioning) and auxiliary converters which will equip the first 355 cars - comprising 65 multifunctional steering cars and 290 trailer cars - supplied by Bombardier Transportation as part of the Bombardier Transportation - Alstom Consortium, with total options for a maximum of 710 additional cars for Bombardier Transportation.
Faiveley Transport will be in charge of the study, design, engineering, manufacture and delivery of the rail systems, with many of the Group's European sites involved. They include Amiens, La Ville-aux-Dames and Neuville en Ferrain (France), Witten (Germany), Piossasco (Italy), Schaffhausen (Switzerland), Landskrona (Sweden), Zaventem (Belgium) and Faiveley Transport's new industrial site, Plzen (Czech Republic). Deliveries are expected to start by early 2017 and be completed by 2028.
Simon Charlesworth, Faiveley Transport's Sales & Marketing Vice President, said, "We are proud to have been selected by Bombardier Transportation to be involved in the M7 project, thereby maintaining our strong history of supplying state-of-the-art railway systems to SNCB. We have, in the past, supplied bogie brakes, couplers, and cabin HVAC for M6 double-decker cars, as well as complete braking systems and HVAC for HLE18 locomotives, and access doors and HVAC for AM08 regional trains. This multi package order from Bombardier demonstrates both the breadth of Faiveley Transport's product offering and our technological leadership in the rail industry."
M7 trains will be able to run at speeds of up to 200 km/h, and are designed to operate on all Belgian mainlines, as well as cross border with the Netherlands and Luxembourg, including on some high speed lines.
About Faiveley Transport
Faiveley Transport is a global supplier in integrated systems for the railway industry.
The Group supplies manufacturers, operators and railway maintenance bodies worldwide with the most comprehensive range of systems in the market: Energy and Comfort (heating, ventilation and air conditioning ; power collectors and convertors, information and safety systems), Access and Mobility (platform doors & gates and access doors), Brakes and Safety (braking systems and couplers) and Services.
With more than 5500 employees in 24 countries, Faiveley Transport generated sales of €982 million for the 2013/2014 financial year.