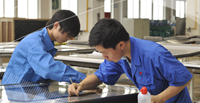 Faiveley Transport has been awarded a contract worth over €50 million by CRRC Qingdao Sifang Co., Ltd. (CRRCSifang) to supply couplers and door systems for the Hong Kong metro's 93 new trains which will replace the first generation fleet currently operating in the Chinese city.
The 93 new eight-car trains, ordered in July 2015 by Hong Kong's metro operator MTR Corporation to CRRCSifang, feature modern operating systems and equipment to provide Hong Kong's metro passengers with high quality service. These new trains are designed to replace all the first-generation fleet currently operating on the Kwun Tong, Tsuen Wan, Island and Tseung Kwan O lines.
Faiveley Transport's scope of supply includes the design, manufacture and delivery of door systems (external sliding type access doors and sliding plug cabin doors) as well as coupler systems (automatic and semi-permanent couplers). It will involve two of the Group's sites worldwide - Witten in Germany and Shanghai in China - supported by its Hong Kong site for tests and commissioning assistance. Delivery will be spread over a period from end of 2016tomid-2023.
Faiveley Transport is a longstanding and major supplier to the Hong Kong metro, with railway systems and services supplied for both new and existing projects, notably including the following: platform screen doors (Lantau Airport Link), automatic platform doors (Disneyline and Urban line) and brake discs and pads (East Rail Line). Coupler systems have been used successfully for many years on the Urban Line, Lantau Airport Link, Shatin Central Link, TKO Extension, and West and South Island Lines, while door systems have been supplied for the East and West Rail lines, the Ma On Shan line, South Island line and Shatin Central link.
Shengyi Ni, Vice General Manager of CRRC Sifang, says:" CRRC Sifang has become a world-renowned company with advanced technology and technical expertise, improved internal management procedures and high quality rail vehicle products. We look forward to our future collaboration with Faiveley Transport to provide Hong Kong's Metro with a new generation of high quality, safe, and efficient train systems."
Jun He, Faiveley Transport China Division President, adds, "We are proud to have been awarded these major contracts, which confirm Faiveley Transport's ongoing commitment to delivering to Hong Kong's Metro the highest standards of quality, safety, efficiency and reliability. Our experience and technical expertise combined with our strong customer relationships have been instrumental in our being selected. More than a year after the creation of our dedicated China Division, these contracts are further testimony of our Group's ability to satisfy its customer's requirements and demonstrate the confidence our Chinese customers' have in Faiveley Transport as a key rail systems supplier in the Greater China region."
About Faiveley Transport
The Group supplies manufacturers, operators and railway maintenance bodies worldwide with the most comprehensive range of systems in the market: Energy and Comfort (heating, ventilation and air conditioning ; power collectors and convertors, information and safety systems), Access and Mobility (platform doors & gates and access doors), Brakes and Safety (braking systems and couplers) and Services.
With more than 5500 employees in 24 countries, Faiveley Transport generated sales of €982 million for the 2013/2014 financial year.