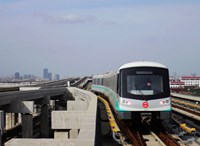 Faiveley Transport has been awarded two Access Door contracts worth more than €10 million for lines 8 (phase III) and 13 (phases II & III) of the Shanghai Metro, by CSR Puzhen Bombardier Transportation Systems Ltd and by CRRC subsidiary's Nanjing Puzhen Rail Transport, respectively.
The Shanghai Metro, with 14 lines and 337 stations totaling more than 500 km, is one of the largest and fastest growing metro systems in the world. It has seen substantial growth in recent years and continues to expand in order to alleviate growing traffic congestion.
For the phase II and III project of Line 13, which stretches underground from the northwest to southeast of the city, Faiveley Transport has concluded a contract with CRRC subsidiary's Nanjing Puzhen Rail Transport to supply Passenger Access Door and Cabin Door systems for the 38 trains each made up of 6 cars provided as part of the line extension from West Nanjing Roadstation to Middle Huaxia Road station. Delivery will start in December2015 and is due to be completed by the end of 2017.
For Line 8 phase III, aimed at extending the current line to the Shanghai Pujiangzhen district, Faiveley Transport has been awarded a contract by CSR Puzhen Bombardier Transportation Systems Ltd, a joint venture created between CSR Puzhen and Bombardier Transportation. The Group will supply Passenger Access Door systems for 11 four car walkthrough driverless automated people movers. Delivery is scheduled to start in March 2016 and to be completed by April 2017.
Under the terms of the contracts, Faiveley Transport will be in charge of the engineering, manufacture, delivery, installation and service of the Door systems. The project will be carried out by the Group's Shanghai site.
Jun He, President of the Faiveley Transport China Division, said, "In the past, Faiveley Transport has supplied its Access Door systems for the initial phases of Shanghai Metro lines 8 and 13, as well as for lines 1, 2, 3, 4, 6, 10 and 11. We are pleased to have been selected for these new contracts and to continue our long-term relationship with the Shanghai Metro. More than a year after the creation of a China Division as part of our Group Strategic Plan, these contracts demonstrate our customers' confidence in Faiveley Transport as a leading rail systems supplier in China"
About Faiveley Transport
The Group supplies manufacturers, operators and railway maintenance bodies worldwide with the most comprehensive range of systems in the market: Energy and Comfort (heating, ventilation and air conditioning ; power collectors and convertors, information and safety systems), Access and Mobility (platform doors & gates and access doors), Brakes and Safety (braking systems and couplers) and Services.
With more than 5500 employees in 24 countries, Faiveley Transport generated sales of €982 million for the 2013/2014 financial year.