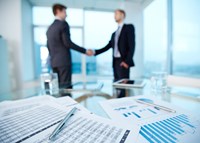 The European Commission approved today the proposed purchaser of Faiveley Transport Gennevilliers (FTG), the sintered brake material company of Faiveley Transport.
Following the consent decree by the U.S. Department of Justice, this approval by the European Commission was the last regulatory clearance required to complete the proposed combination between Faiveley Transport and Wabtec.
The acquisition of the Faiveley family stake by Wabtec is expected to occur on November 30, 2016. Following this change of control, Wabtec will file the public tender offer with the AMF (French financial markets authority) in December 2016.
Darrois Villey Maillot Brochier and Wachtell Lipton Rosen & Katz acted as anti-trust legal advisors to Faiveley Transport, respectively in Europe and in the US.
About Faiveley Transport
Faiveley Transport is a global supplier in integrated systems for the railway industry.
The Group supplies manufacturers, operators and railway maintenance bodies worldwide with the most comprehensive range of systems in the market: Energy and Comfort (heating, ventilation and air conditioning ; power collectors and convertors, information and safety systems), Access and Mobility (platform doors & gates and access doors), Brakes and Safety (braking systems and couplers) and Services.
About WABTEC
Wabtec Corporation is a global provider of value-added, technology-based products and services for rail and industrial markets. Through its subsidiaries, the company manufactures a range of products for locomotives, freight cars and passenger transit vehicles. The company also builds new switcher and commuter locomotives, and provides aftermarket services. The company has facilities located throughout the world.