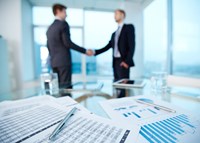 FedEx Corp. (NYSE: FDX) confirmed today that the European Commission has initiated a Phase II review in connection with FedEx's intended public offer to acquire all the issued and outstanding shares of TNT Express N.V. This is the next step in the process where the European Commission conducts an in-depth analysis under the EU Merger Regulation before coming to a decision. The transaction is also being reviewed by other antitrust agencies, including the Ministry of Commerce (MOFCOM) in China and Conselho Administrativo de Defesa Econômica (CADE) in Brazil.
"We will continue to work together with TNT Express to meet the European Commission's need for additional due diligence and are confident that the combination of both companies will increase competition and create benefits for customers," said David Binks, President, FedEx Express – Europe. "We continue to make progress on all of the necessary regulatory steps around the world that would allow us to complete this transaction in the first half of 2016 and unite two great teams that share a passion for customer service."
On June 26, 2015, FedEx started the formal process to obtain merger control approval from the European Commission by submitting the required filing to obtain regulatory clearance in connection with its intended offer to acquire TNT Express. FedEx has also submitted a request for review and approval of its Offer Document with the Netherlands Authority for the Financial Markets (Stichting Autoriteit Financiële Markten, AFM) on June 26, 2015 as required under Dutch law. Based on the required steps and subject to the necessary approvals, closing of the offer is anticipated in the first half of 2016.
About FedEx
We deliver solutions that matter to you and your business, turning global challenges into opportunities. When we connect people and possibilities, businesses prosper, communities flourish, and lives are improved — everyone benefits.