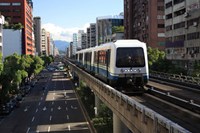 A new mobile phone app has today been released allowing public transport customers to report incidents and provide feedback on the services they travel on.
Minister for Transport and Infrastructure Andrew Constance said 'Feedback2Go' delivers a new approach to customer engagement.
"Whether it's the good, the bad, or the ugly – we want customers to let us know what they think of the services they're travelling on and tell us how we can improve," Mr Constance said.
"With a few taps on the app, customers can upload photos and report incidents to us direct."
Users will be able to provide feedback on trains, buses, ferries, light rail, roads or maritime in categories including the reliability of their public transport service, safety and cleanliness.
Once feedback is submitted, customers can choose if they would like to receive a follow-up response. They can also track the status of their report through the app.
"We're not frightened of feedback or complaints – in fact, we welcome it – and this app is yet another easy option for customers to share their thoughts," Mr Constance said.
Special access customers can also enjoy the benefits of 'Feedback2Go' using the Voiceover (iOS) or TalkBack (Android) functions.
The 'Feedback2Go' app is part of the ongoing Future Transport program, aimed at unlocking the latest technology and trends that will transform NSW.
The app is available to download for free from either the App Store or Google Play.
About Transport for NSW
Transport for NSW is responsible for improving the customer experience, planning, program administration, policy, regulation, procuring transport services, infrastructure and freight. Transport operating agencies have been freed up to focus on service delivery – providing safe, reliable, clean and efficient transport services.