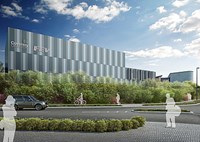 International engineering service provider FEV with headquarters in Aachen and Coventry University have signed a 33 million Euro deal to build a clean transport technology center in Coventry that spearheads research into advanced powertrain development over the next decade.
Four state-of-the-art powertrain test cells will allow FEV's and the university's researchers and engineers to test and improve performance and emissions on a range of different powertrain concepts, including hybridized, electric, conventional and alternative fuel-based powertrains.
The new low carbon technology center will open next door to Coventry University's recently-launched National Transport Design Centre (NTDC), creating a cluster of transport-focused research and development facilities on the university's Technology Park.
The new test center represents a significant growth in FEV's presence in the UK through its local engineering operation serving the UK automotive industry with specialist services in powertrain development and an increasing focus on vehicle electrification. FEV already today works closely with a number of UK customers. These leading international names in the automotive and aerospace industries are expected to use the facility to develop cleaner transport technologies, with a significant area of work set to be advanced propulsion systems – a key innovation theme identified in the UK government's industrial strategy.
"Close cooperation with leading universities has always been a crucial aspect which strengthens the innovative capability of FEV", explained Professor Stefan Pischinger, President and CEO of FEV Group. "It was thus a logical step for us to invest in the low carbon technology center. The cooperation will strengthen our presence in the UK and offers a great base for future development projects to achieve lowest emission mobility."
Professor John Latham, Vice-Chancellor of Coventry University, said: "This new joint venture with FEV speaks of lasting confidence across Europe in the strength of industry and the quality of research and development in the UK. The facility strengthens our existing portfolio of activities in this area, building on the work we're doing through the National Transport Design Centre and our connected and autonomous vehicles programs to take our recent overall investment in transport research and development to over £40 million. Coventry and the wider Midlands clearly remain a draw for international companies wanting to push forward innovation in vehicle design and development, particularly in clean transport technologies, and we're delighted as one of the region's universities to be playing a role in attracting such investment."
About FEV
The FEV Group, with headquarters in Aachen, Germany, is an internationally recognized vehicle development services provider. FEV's expertise ranges from consulting to the development and testing of innovative vehicle concepts through readiness for serial production. In addition to traditional engine and transmission development, vehicle integration, calibration, and the homologation of state-of-the-art gasoline and diesel engines, increasing importance is being placed on the development of hybrid and electric powertrains as well as alternative fuels. FEV experts focus on the advancement of electronic control systems, as well as connected vehicles and automation.
The "FEV Software and Testing Solutions" product portfolio complements these services with cutting-edge test fields, measuring equipment and software solutions that help make the development process more efficient and transfer significant process steps from the road to the test rig – or even to computer simulation.
FEV offers these services to its transport industry customers around the world. The FEV Group employs over 4500 highly-qualified specialists in high-tech development centers near its customers at 40 locations on four continents.
About Coventry University
Coventry University is a dynamic, global and transformational 'modern university' whose roots can be traced back to 1843 to the Coventry School of Design. With a proud tradition as a provider of innovative teaching and learning and a focus on impactful research, the university has established a robust reputation for pushing the boundaries of higher education regionally, nationally and across the world.
Through its links with leading-edge organizations and its longstanding culture of business support, the institution has earned a strong reputation for enterprise and innovation which is spearheaded by its commercial arm, Coventry University Enterprises, and its renowned Technology Park. The university is also recognized internationally for the world-leading caliber of its teaching in engineering and design – particularly in the automotive field – as well as its research activities which support innovation in the transport industry.
Coventry's city center campus itself is continually developing and evolving, and a £500 million-plus investment in a new engineering and computing building, a science and health facility, and two new transport research facilities is ensuring the university remains at the forefront of innovation in teaching and enterprise.