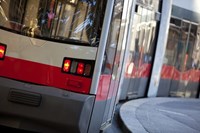 Construction of the CBD & South East Light Rail is storming ahead, with work in the final stage of George Street to begin ahead of schedule.
CBD Coordinator General Marg Prendergast today announced that light rail construction in the final block of George Street will start three months early, with work between Hay Street and Rawson Place to begin in October.
"The start of work in this southern block of George Street has been brought forward to reduce the period the Chinatown end of the CBD is disrupted, with the two blocks to its north to also start the same weekend in October," Ms Prendergast said.
"Originally construction in those three zones – Liverpool Street to Rawson Place – was staggered between August 2016 and August 2017, but by aligning the start times the overall duration is reduced significantly.
"Now those three zones will all begin on Friday, 14 October.
"We have had some challenges in the middle of town with redundant utilities being discovered beneath George Street, but the project is making strong progress in this year of the big build.
"We have tracks laid in Kensington, the Moore Park tunnel well underway and work is happening in every precinct along the route, from the CBD to Randwick and Kingsford and in Surry Hills, Moore Park and Kensington in between – well over seven kilometres of our 12-kilometre route."
Businesses and other stakeholders in zones where work dates have changed are being kept up-to-date through face-to-face visits from the light rail project team and regular letterbox and email notifications.
"Closing down Sydney's main street has been no mean feat, and we are tremendously grateful to the people of Sydney, who have responded so well to our messages about finding other ways around the city but still coming to George Street to shop and dine," Ms Prendergast said.
"Keeping George Street busy ensures the businesses there are supported while we build this transformational project that will bring up to 13,500 potential customers an hour past their doors."
The first CBD and South East Light Rail services will begin operating in 2019.
About Sydney Light Rail
The CBD and South East Light Rail is a new light rail network for Sydney, currently under construction. The 12km route will feature 19 stops, extending from Circular Quay along George Street to Central Station, through Surry Hills to Moore Park, then to Kensington and Kingsford via Anzac Parade and Randwick via Alison Road and High Street. Construction will be completed in 2018 and services will start running in 2019.