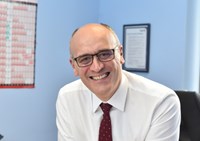 First Bus has announced the appointment of Tim Noble as the company's new Head of Procurement.
Tim, who is based at First Bus' Adderley Green depot in Stoke, joins from SCC, a large IT Infrastructure and Services Group, having previously enjoyed a five year stint as Head of Procurement for Arriva.
He started with First Bus on 1st October and is responsible for defining the company's procurement strategy, working with partners to deliver industry leading quality and value.
Tim said: "I'm delighted to be returning to the transport industry and joining First Bus. I've inherited an excellent team, with a great reputation and a really strong track record of achievement. I'm looking forward to working with colleagues, partners and suppliers to deliver the best possible products and services to help support our local teams and grow our business."
Giles Fearnley, Managing Director of First Bus, welcomed Tim to the team and paid tribute to his predecessor, Dave Farrar, who recently retired after more than 30 years' service. Giles said: "We're delighted to have brought Tim on board. He will strengthen our procurement function and with his wealth of experience will build upon the many successes and strong foundation that have been laid by Dave Farrar and the team."
Giles added: "Dave has made a huge contribution to our business and we will benefit from the positive relationships he has developed with suppliers for many years to come. He retires with our very best wishes."
Tim has worked in senior Procurement roles across a variety of sectors in addition to transport, including automotive and aerospace manufacturing, construction and public utilities. His broad-based experience incorporates vehicle purchasing, indirect goods & services, engineering parts and materials, energy and fuels & lubricants. He holds an MBA from Durham University and is a member of CIPS, the Chartered Institute of Procurement & Supply.
About First Bus
cross the UK First Bus operates in a huge number of communities, including 40 of the country's largest towns and cities.
You can travel by First Bus in Aberdeen, Glasgow, Edinburgh, York, Sheffield, Leeds, Manchester, Swansea, Portsmouth, Southampton, Stoke, Leicester, Bristol, Norwich, Ipswich, Colchester, Plymouth, Taunton and many other cities, towns and villages.