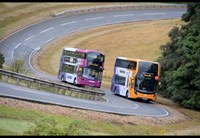 First Bus triggered development race amongst vehicle manufacturers with innovative and rigorous testing programme.
Annual testing programme has seen over 30% improvement in fuel efficiency and 30% reduction in carbon emissions since 2012
Latest innovations in bus manufacturing trialled this month – hopes are high for a further 10% improvement in 2017.
The UK's leading bus operator, First Bus, spends most of August rigorously testing the very latest developments in bus technology in its pursuit of operating ever cleaner and more fuel efficient vehicles across the UK.
Vehicle manufacturers such as Wrightbus, ADL and Optare have been putting their latest products through First Bus's comprehensive testing programme at Millbrook Proving Ground, a specially designed vehicle testing facility in Bedfordshire.
The annual event was launched in 2012 and quickly triggered a development race amongst vehicle manufacturers. Managing Director of First Bus, Giles Fearnley, described the improvements since 2012 as 'remarkable'. Manufacturers have successfully improved the fuel efficiency of vehicles by 30% and reduced vehicle carbon emissions by 30%.
In its latest round of testing First Bus hopes added developments in vehicle technology will contribute towards a further 10% improvement in both fuel efficiency and carbon emissions.
The results of the testing programme play a major part in the First Bus vehicle procurement strategy - in this financial year First Bus is investing £70m in 305 new vehicles and since 2012 the company has invested around £300m in almost 1600 new buses. With multi-million pound orders at stake manufacturers have treated the annual trials at Millbrook very seriously.
Using a testing procedure developed by First Bus and Millbrook's engineers, each August vehicles are put thought their paces on a course that is meticulously designed to reflect a variety of rural, urban and interurban bus routes. The buses are hooked up to sophisticated equipment to monitor many aspects of performance. They undergo maximum speed and acceleration tests and are subjected to extreme 25% gradients to ensure they meet some of the more demanding requirements of real world operations.
To replicate the driving pattern of a bus on an average working day, vehicles follow a route featuring hills, junctions, roundabouts and numerous bus stops. The buses travel at a range of pre-defined speeds and spend a proportion of the test idling to simulate passengers boarding at bus stops, just as it typically would while in service. Vehicles are weighted with ballast to replicate passengers.
In achieving 30% reduction in carbon emissions and 30% improvement in fuel efficiency, a number of initiatives and technologies have been put in place. In addition to the reduction of the weight of vehicles and optimisation of engine and transmission configuration, a number of systems on vehicles now capture energy that would otherwise be lost during braking in order to power vehicle electric and air systems. More recently the process has led to development of Stop/Start technology for buses – when stationary at bus stops the vehicle automatically switches off, saving fuel and emissions and then restarts once the driver closes the doors and is ready to accelerate.
The Millbrook testing event is helping First Bus lead the industry in reducing emissions and improving fuel efficiency. The company operates the largest fleet of DfT certified 'Low Carbon Buses' within the UK (around 1,000) and by the end of the financial year will be saving an estimated 15 million kilograms of CO2 per year, equivalent to the CO2 absorbed by 7.5 million trees.
Giles Fearnley, Managing Director of First Bus, said: "In 2012 we laid down the gauntlet to bus manufacturers to drive innovation and deliver vehicles that were cleaner and more fuel efficient. As we emerge from our fourth testing event at Millbrook, I'd pay tribute to manufacturers such as ADL, Wrightbus and Optare - the progress to date has been remarkable. We're confident that by continuing our partnership approach with Millbrook Proving Ground and our vehicle manufacturers we can deliver a further 10% improvement in fuel efficiency and carbon emissions in 2017.
"We know it makes sound business sense as well as good environmental sense to pioneer the introduction of lower carbon and lower emission technologies. As well as making the communities we serve cleaner and greener for the future, we're seeing great fuel efficiency benefits which are helping us ensure that bus travel remains good value for money for our customers."
He continued: "The improvements to vehicle performance that our annual competition has inspired have wide ranging benefits not just for First Bus, but the industry as a whole. Bus operators across the UK are benefiting from vehicles that are more fuel efficient, while the wider environment is benefiting from buses that emit significantly less carbon. I am immensely proud that we are leading the industry on this agenda."
Alex Burns, CEO of Millbrook Group said: "The work that Millbrook undertakes with First Bus is very valuable. The testing and like for like comparisons between vehicles are helping to drive the development of greener public transport, which has real benefits for the environment and creates cost–savings that ultimately benefit consumers. Millbrook is uniquely able to provide the testing environment and expertise required by First Bus."
About First Bus
Across the UK First Bus operates in a huge number of communities, including 40 of the country's largest towns and cities.
You can travel by First Bus in Aberdeen, Glasgow, Edinburgh, York, Sheffield, Leeds, Manchester, Swansea, Portsmouth, Southampton, Stoke, Leicester, Bristol, Norwich, Ipswich, Colchester, Plymouth, Taunton and many other cities, towns and villages.