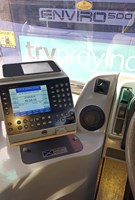 First Group Aberdeen has upgraded its on-bus ticketing machines to the metric.optima BL bringing the Scottish business inline with the English businesses.
The entire fleet of buses were upgraded over the course of a weekend by a team of METRIC engineers working in conjunction with First Group staff. The buses previously had the Almex R5 ticketing machine (Almex rebranded to METRIC in May 2015).
The metric.optima BL includes new features such as ITSO Interoperability functionality for period passes and carnet (multi-journey) products if required, and has a quicker card read speed.
Along with the installation of the ETMs, an updated back office system was also implemented.
About Metric
METRIC is first and foremost a technology company. We design and develop new and innovative solutions for the parking, transport, retail and logistics sectors. METRIC have a long history of being at the forefront of design and innovation, our company has produced many firsts from the first ticket machine to allow overlapping farestages and first all-electronic desktop calculator to the world's first electronic pay & display machine.