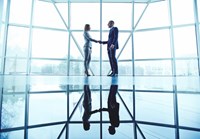 Transport operator FirstGroup has signed an agreement with GoMentum Station, a California-based proving ground, to carry out research into shared autonomous vehicles.
First Transit, a US division of FirstGroup, will use the facility as a test site for innovative transport applications, including a pilot project to deploy the first commercially operated shared autonomous vehicle on public roads in the United States.
The pilot project began in late 2016, at Bishop Ranch, an office park in San Ramon, California. First Transit is responsible for providing staffing, maintenance, insurance and operational support for two shuttles during the testing and deployment phases of the program.
GoMentum Station in Concord, California, is a 2,000-hectare test facility where the Contra Costa Transportation Authority (CCTA) and its partners are accelerating the next generation of transportation technologies.
Named by the U.S. Department of Transportation as one of ten federally designated automated vehicle proving grounds, GoMentum Station is the largest secure test track of its kind.
Brad Thomas, president of First Transit, said: "The partnership with GoMentum Station allows us to identify new mobility solutions for our customers using shared autonomous vehicle technology. We see the broad application of this technology as a great first and last mile solution plus countless other transportation challenges."
Randell Iwasaki, Executive Director of CCTA, said: "As a leader in innovative transportation solutions, we are proud to have First Transit as one of our exclusive collaboration partners at GoMentum Station.
"The partnership with First Transit expands the international reach of GoMentum Station, and will provide a unique opportunity for multi-modal testing with a firm that specializes in transit operations. This will enable us to explore how automated vehicles can complement and enhance existing mobility options."
About First Transit
First Transit is one of the largest private sector providers of public transit management and contracting in North America. Within it, our First Vehicle Services arm is one of the largest private sector providers of vehicle maintenance and related support services in North America.