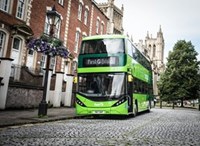 Starting Monday 21 August, Bristolians will be able to catch a new kind of bus – A double-decker bus that's powered by bio methane, a renewable gas created from food scraps like left-over pizza pieces and other household food waste, so a completely sustainable and renewable fuel source.
Local bus operator First West of England will use the double decker, which is rated as the best low-emission double decker bus currently on the market, as a pathfinder. This will assess how well the new bus copes with the demands of city-wide operations in Bristol and how it impacts, for example, refuelling and maintenance operations.
The public can easily spot the bio-gas bus with its green livery and playful bubbles as a reference to its environmental credentials and the fermenting process that produces the odourless methane gas. The bus has 70 seats, a wheelchair space and standing room for 13, glass windows next to its staircase, allowing a lot more daylight to enter the vehicle.
The environmental credentials are impressive: Using bio methane, the bus's greenhouse gas emissions are 84% cleaner than a Euro 5 Diesel on a well-to-wheel basis. Perhaps surprisingly considering its size and passenger capacity, its tailpipe emissions are lower than many modern Euro 6 diesel passenger cars.
The biogas bus also uses a different engine, which results in a quieter and improved journey experience for passengers; and residents along the Service 1 route may even notice the difference! Further improvements are two desks on the upper desk and no grabrails, giving a more spacious feel.
Talking about the Bio-gas bus, James Freeman, Managing Director of First West of England said:
"We are immensely proud to bring this premium double decker to Bristol so soon after the manufacturers offered it to the market. Its low emissions and bio-gas credentials are just what is needed in a city that is faced with air quality challenges and increased congestion. This bio-gas bus helps to improve local air quality as it produces fewer emissions than traditional diesel engines."
Cllr Mhairi Threlfall, Cabinet Member for Transport, said:
"I'm delighted to support the launch of the first double-decker bus using biogas here in Bristol. It's a testament to our good partnership with First that we were chosen to be the first place in the UK to test this particular type of innovative bus technology.
"The future and health of Bristol depends on exploring low-emission technology and investments like this will help make real progress towards our air pollution targets."
The biogas bus is the latest addition to First's increasingly green fleet. Since the bus operator joined the European Green Capital Partnership in 2015 and make Bristol a more sustainable place to live, it made a firm commitment to only invest in low-carbon certified Euro VI engines, which produce 95% less oxides of nitrogen (NOx) emissions compared to buses with Euro V engines. Two years on, more than 110 low emission-certified double decker buses are now improving air quality on routes across Bristol and surrounding areas. The company also operates two virtual hybrid electric buses and uses a number of 100% electric passenger cars to transport drivers across Bristol to change-over points.
About First Bus
Across the UK First Bus operates in a huge number of communities, including 40 of the country's largest towns and cities.
You can travel by First Bus in Aberdeen, Glasgow, Edinburgh, York, Sheffield, Leeds, Manchester, Swansea, Portsmouth, Southampton, Stoke, Leicester, Bristol, Norwich, Ipswich, Colchester, Plymouth, Taunton and many other cities, towns and villages.