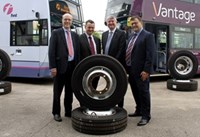 Bridgestone secures $110m tyre supply contract with transport operator FirstGroup.
The deal is FirstGroup's first international procurement agreement for direct goods or services.
The partnership also marks Bridgestone's largest commercial fleet contract.
FirstGroup Birdgestone tyre contractLeading transport operator FirstGroup have signed a $110m, five-year deal with tyre supplier Bridgestone.
The deal is FirstGroup's first international procurement agreement for direct goods or services, and is also the largest commercial fleet contract in Bridgestone's history.
The contract will see Bridgestone, the world's largest tyre manufacturer, supplying tyres to more than 60,000 of FirstGroup's buses and coaches in the USA, Canada and the UK.
As part of the agreement Bridgestone will provide tyres for all of FirstGroup's vehicles in the UK and around 80% of its operations in the United States and Canada.
Glen Lovett, Group Procurement Manager for FirstGroup, said: "We are delighted to have agreed this global contract with Bridgestone. Having first begun working together through a fleet agreement in Leicester in 2004, we have seen significant achievements and built up a solid working relationship over many years.
"Many organisations – whilst global in nature – retain a regionalised market focus but Bridgestone were able to engage with FirstGroup on a global basis, enabling us to leverage our size and scale. This agreement will provide the flexibility that we need to manage a huge fleet of vehicles on both sides of the Atlantic, including our local buses, coach services, and school transportation."
In negotiating the contract, Bridgestone had to demonstrate flexibility to meet specific needs of the fleet, which will predominantly run on UAP-001 tyres, featuring different tread patterns unique to each market.
Greg Ward, Commercial Sales Director for Bridgestone, said: "This is a hugely significant announcement for the whole team at Bridgestone and a partnership that we're extremely proud of. To win the contract, we needed to demonstrate our value and ability to deliver on a global level in order to stave off stiff competition from a rival premium tyre manufacturer.
"We had a strong goal to become the number one supplier to FirstGroup and, as such, we demonstrated an ability to act as a global company with a 'one team' philosophy, meaning that the geographical distance between our US and UK teams was never an issue."
About First Group
First Group operates five divisions which draw on common skills and expertise, but which are varied by geography, customer base and a mix of contract and passenger revenue. Their broad footprint in the UK and North America gives us experience of two of the most developed markets in the world for transport services, and a breadth of expertise across different regulatory and contractual environments.