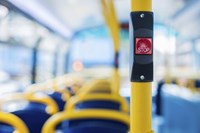 A new poll* by First Bus has found that nearly half of Brits surveyed don't know where their nearest bus stop is located, to take them to work. The research follows the recent news that UK drivers are spending 32 hours (almost an entire working week) stuck in traffic every year.
The UK is the third worst country for traffic congestion in Europe** and First Bus is therefore urging more drivers to switch to using the bus to help ease congestion and reduce air pollution. The recent survey by First Bus into awareness of bus stop locations found that 53 per cent were unable to confirm which bus stop would get them to work and nearly one third didn't know which bus stop would take them to their nearest town or city centre.
To assist confused Brits and to encourage more people to consider using their local bus service First Bus has launched a new travel app that will help smartphone users easily identify their nearest bus.
Key features of the new app include:
Door-to-door journey planning across all transport (i.e. bus, rail, tram, walking).
Walking direction to required bus stop.
Real time bus-stop specific information updates.
Option to save your favourite bus stops and shows bus stops within a 5-10-15 minutes walking radius.
Progress along bus route towards destination using google maps.
Speaking about the new app, James Timperley, Director of Retail Development at First Bus said: "We're working hard to make bus travel a more attractive option and encourage more drivers to switch to using the bus for some of their regular journeys. The new Travel Information app is a big step in the right direction and will help customers plan journeys more effectively and to identify bus stops close-by. This is the first phase of updates we are making to our mobile apps and digital information and we will be announcing more exciting changes in the near future."
The update to the app is the latest in a string of technology improvements that First Bus has made to improve services. For more information, visit www.firstgroup.com.
The First Bus Travel Information app is available to download from app stores now.
About First Bus
Across the UK First Bus operates in a huge number of communities, including 40 of the country's largest towns and cities.
You can travel by First Bus in Aberdeen, Glasgow, Edinburgh, York, Sheffield, Leeds, Manchester, Swansea, Portsmouth, Southampton, Stoke, Leicester, Bristol, Norwich, Ipswich, Colchester, Plymouth, Taunton and many other cities, towns and villages.