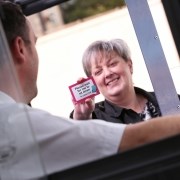 The UK's leading bus operator, First Bus, is helping celebrate National Customer Service Week (3-7 October) by relaunching its industry leading 'Safe Journey Cards' and 'Better Journey Cards', which are designed to help customers use the bus.
Their introduction has helped many people use public transport where previously they have faced difficulties. The cards allow the passenger to discreetly communicate a specific message to the driver. This can include:
'Please scan my pass for me'
'Please count out my change with me'
'Please speak slowly, I am hard of hearing'
'Please wait for me to sit down'
'Please be patient, I have a hidden disability', which can include the effects of Alzheimer's for instance.
'Please tell me when we reach my destination' – the passenger can fill this in with the appropriate location.
There are also sections where the customer can customise his/her own message to the driver.
The cards have proven to be so successful that they have been adopted by much of the UK Bus industry. First Bus has relaunched them this week to encourage more people to use and benefit from them.
Managing Director of First Bus, Giles Fearnley, said: "Customer Service Week is a much celebrated event and a good opportunity to re-launch our Safe Journey Cards and Better Journey Cards.
"These cards offer our customers a way of discreetly communicating with our drivers. Quite often people want to ask for assistance, but they're unsure how best to do it. While customers can, of course, just ask for any help they need, not everyone finds this easy, or is able to speak clearly. In these instances, these cards give people a way of asking for assistance in a simple, easy and discreet way.
"The feedback we've received from those that use them has been exclusively positive. We want to remind customers of their availability, so if a passenger chooses to use them, they can travel by bus with more confidence. I'm really pleased to be re-launching them this week."
Roland Chesters from Disability Action Alliance, who worked with First Bus and another charity, Age UK, in 2009 to introduce the Journey cards, said: "The Disability Action Alliance is extremely proud to support one of its members, First Bus, in the relaunch of its Safe Journey Cards and Better Journey Cards.
"For many people with disabilities, travelling on public transport can be a challenge. However, right across the country, we've received plaudits from our members who are using the Journey Cards and reporting safer and more pleasant experiences on First Bus services."
John Birtwistle, President of the bus industry's trade body, the Confederation of Passenger Transport, said: "First Bus has led the industry in improving services for those with disabilities or travel difficulties. The company's Journey Cards are a fantastic example of outstanding customer service and having been adopted by CPT are now being rolled out by many bus operators across the UK."
Safe Journey Cards and Better Journey Cards are free of charge and are available from First Bus Travel Shops across the UK and can be printed directly from the internet
About First Bus
Across the UK First Bus operates in a huge number of communities, including 40 of the country's largest towns and cities.
You can travel by First Bus in Aberdeen, Glasgow, Edinburgh, York, Sheffield, Leeds, Manchester, Swansea, Portsmouth, Southampton, Stoke, Leicester, Bristol, Norwich, Ipswich, Colchester, Plymouth, Taunton and many other cities, towns and villages.