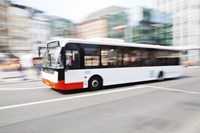 Transport Operator Crowned 'Low Carbon Vehicle Operator of the Year'
Award win celebrates the First Bus annual vehicle testing programme which has seen over 30% improvement in vehicle fuel efficiency and 30% reduction in carbon emissions since 2012
The UK's leading bus operator, First Bus, won top prize at the prestigious Low Carbon Champions Awards last night (September 14) after being crowned 'Low Carbon Vehicle Operator of the Year 2016'.
The passenger transport operator, who moves more than 1.6million passengers a day, has led the industry's drive to introduce cleaner vehicles, improve fuel efficiency, reduce emissions and improve air quality in towns and cities across the UK.
Judges were impressed by the First Bus vehicle trials at Millbrook, a vehicle testing facility in Bedfordshire: First Bus sparked a development race amongst bus manufacturers in 2012 when it introduced a rigorous annual vehicle testing programme, the results of which help First Bus decide which vehicle model and manufacturer to invest in. First Bus is investing £70m in 305 new vehicles this financial year and since 2012 has invested around £300m in almost 1600 new buses. With multi-million pound orders at stake manufacturers have treated the annual trials at Millbrook very seriously and improved the fuel efficiency of vehicles by 30% and reduced vehicle carbon emissions by 30%.
Judges also cited First Bus's pursuit of emerging low emission technologies. The company operates: 12 electric buses in York and two in Bristol; four hydrogen fuel cell buses in Aberdeen; while in Bristol recently trialled a bio-methane vehicle that ran on fuel processed from human waste (popularly known as the 'poo bus').
First Bus operates the largest fleet of DfT certified 'Low Carbon Buses' within the UK (around 1,000) and in 2015 announced the largest order (355 vehicles) on record in the UK for vehicles with Euro VI engines, which produce 95% less oxides of nitrogen (NOx) emissions and help improve air quality. In 2016 First Bus announced a £70m investment in a further 305 Euro VI vehicles.
In awarding First Bus the coveted Low Carbon Vehicle Operate of the Year prize, judges said: "First Bus has demonstrated innovation by creating a Millbrook Fuel Economy Test for bus manufacturers as part of its bus procurement strategy. This has set a challenge for manufacturers, pushing forward improvements in fuel efficiency in the industry as a whole. The company has spearheaded the adoption of a range of low carbon bus technologies including hybrid, electric and hydrogen buses as well as embracing the latest Euro VI vehicles."
Giles Fearnley, Managing Director of First Bus, said: "I am extremely proud that First Bus continues to lead the industry, working with our manufacturing partners to produce vehicles that are ever more fuel efficient, cost effective and of course better for our environment. I'm delighted therefore, that our trail blazing approach and in particular our ground breaking vehicle trials has been recognised at the LowCVP Champions Awards.
"This award reflects the hard work and huge talent of the First Bus engineering and procurement teams, and our successful partnerships with vehicle manufacturers."
The Low Carbon Vehicle Partnership (LowCVP) Champions Awards celebrate innovation and best practice in the UK's accelerating drive to cut carbon emissions from the road transport sector. The Awards are in their sixth year and were presented at a glittering ceremony in Milton Keynes on 14 September. Winners will go forwards to the European Business Awards for the Environment.
About First Bus
Across the UK First Bus operates in a huge number of communities, including 40 of the country's largest towns and cities.
You can travel by First Bus in Aberdeen, Glasgow, Edinburgh, York, Sheffield, Leeds, Manchester, Swansea, Portsmouth, Southampton, Stoke, Leicester, Bristol, Norwich, Ipswich, Colchester, Plymouth, Taunton and many other cities, towns and villages.