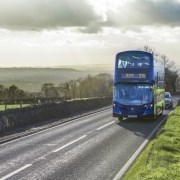 From 1st January 2017, Phil Medlicott to become Managing Director for First Bus in Greater Manchester
From 18th April 2017, Andrew Jarvis to become Managing Director for First Bus in Glasgow and Scotland
Both high profile appointments to join from Stagecoach
First Bus has announced the appointment of industry leaders, Phil Medlicott and Andrew Jarvis, as the company's new Managing Directors in Greater Manchester and Glasgow.
Phil will join the business on 1st January 2017 from Stagecoach North East, where he held the position of Managing Director, and will take over from current First Manchester Managing Director, Teresa Broxton, who has been promoted to Director of Business Change within the division.
Andrew also joins from Stagecoach, where he was Managing Director of its East Scotland operations. He will join the business on April 18th as Managing Director of Glasgow and Scotland. The Managing Directors at First Bus's other Scottish businesses, Aberdeen and Scotland East, will report to Andrew.
Phil Medlicott said: "I'm delighted to be joining First Manchester at a time when there's so much opportunity to develop the business through working in partnership. I look forward to getting to know the team and building relationships with local stakeholders, to ensure we work together to improve services for Manchester's many bus users."
Andrew Jarvis said: "Following a 26-year career in the bus industry, the last six of which have been in Scotland, I am delighted to be joining the teams at First Glasgow and across Scotland in the spring as Managing Director. I am looking forward to getting to know the teams, understanding the detail of the business and working with our customers and stakeholders."
Both Phil and Andrew will report to Dave Alexander, Divisional Director for First Bus. Dave said: "I'm delighted to welcome both Phil and Andrew to First Bus, both of whom have delivered successfully in their roles to date and bring with them a wealth of experience and a passion and flair for customer service and stakeholder engagement."
Phil Medlicott leaves Stagecoach after being with the company for more than 16 years. He took up the position of Managing Director North East in 2012, after previous roles as Managing Director for South East and Warwickshire, as well as Operations Director for Stagecoach South.
Andrew Jarvis also joins from Stagecoach having enjoyed three years as Managing Director at its East Scotland operations. Andrew was also Managing Director of Stagecoach Bluebird and Operations Director at Stagecoach South. Prior to joining Stagecoach in 2006 Andrew held a range of positions across the bus industry.
About First Bus
Across the UK First Bus operates in a huge number of communities, including 40 of the country's largest towns and cities.
You can travel by First Bus in Aberdeen, Glasgow, Edinburgh, York, Sheffield, Leeds, Manchester, Swansea, Portsmouth, Southampton, Stoke, Leicester, Bristol, Norwich, Ipswich, Colchester, Plymouth, Taunton and many other cities, towns and villages.