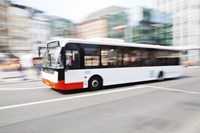 Bus passengers travelling between Rotherham and Sheffield are set to benefit from a new high quality 'X1 Steel Link' service, operated by First Bus, from Sunday (September 4) following completion of the £29.8 million Bus Rapid Transit (BRT) North scheme.
The X1 Steel Link will run on a new BRT 'Tinsley Link' road built over the River Don and under Tinsley Viaduct, to provide a more direct route for buses and improve congestion in the area.
Local bus operator, First Bus, today revealed a range of benefits customers can expect from its new X1 Steel Link when it launches on September 4:
The service will operate up to every ten minutes, providing more buses, linking Maltby, Rotherham, Meadowhall and Sheffield
Customers can benefit from great value fares – an introductory promotion is available which could save customers 30% with day tickets from just £4 and weekly tickets £14.
Customers can purchase tickets on board, on-line or through the First Bus MTicket app which enables passengers to show drivers their bus tickets via their mobile phones.
18 new high spec vehicles will operate on the route, all fitted with leather seats, USB charging points and dedicated and eye catching bespoke branding.
Customers will also shortly benefit from the introduction of free on board wi-fi.
The new vehicles are Department for Transport approved 'low carbon certified' and fitted with the latest Euro VI engines, which produce 95% less oxides of nitrogen (NOx) emissions which will help improve air quality across the route.
First South Yorkshire Head of Commercial, Alan Riggall, said: "First Bus has a great track record of working in partnership to develop successful initiatives to grow bus use. We've been working hard behind the scenes to put in place a quality, reliable and frequent service offering great value for money. Given the range of benefits that our Steel Link offers, including great value fares, I'm sure we will encourage people out of their cars and onto public transport, helping relieve congestion and improve the environment. We're looking forward to welcoming passengers on board from Sunday."
Cllr Denise Lelliott, RMBC Cabinet Member for Jobs and the Local Economy, said: "The X1 Steel Link will give residents of Maltby and Wickersley a direct and frequent service to Rotherham, Meadowhall and Sheffield. Great value fares and high quality buses will offer an alternative to the car for Rotherham residents."
Chris Roberts, SYPTE Principle Public Transport Manager, added: "Together with project partners, we are delighted to introduce the X1 Steel Link as part of South Yorkshire's innovative BRT North scheme. Passengers on the new service can expect reliable, high quality, low emission connections between Rotherham and Sheffield, and journey benefits from bus priority traffic control and purpose built bus stops with real-time information along the new route."
Tom Finnegan-Smith, Head of Strategic Transport and Infrastructure at Sheffield City Council said: "It has been a real partnership effort to introduce the X1 Steel Link. The service offers a genuine alternative for car users, providing quick, reliable journey times and the latest technology so people can work and be comfortable while they travel. All this will be at a lower cost compared to taking the equivalent journey by car. This forms part of our longer term plans to proactively encourage people to use sustainable forms of transport. This has a number of benefits including reducing congestion, improving air quality and journey times which is good for the local economy."
South Yorkshire's BRT North scheme is delivered in partnership by South Yorkshire Passenger Transport Executive, Rotherham Metropolitan Borough Council, Sheffield City Council and First South Yorkshire, and is part financed by £15.8 million from the Department for Transport, and the European Union's Regional Development Fund.
About First Bus
Across the UK First Bus operates in a huge number of communities, including 40 of the country's largest towns and cities.
You can travel by First Bus in Aberdeen, Glasgow, Edinburgh, York, Sheffield, Leeds, Manchester, Swansea, Portsmouth, Southampton, Stoke, Leicester, Bristol, Norwich, Ipswich, Colchester, Plymouth, Taunton and many other cities, towns and villages.