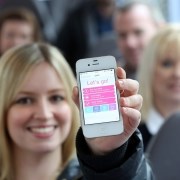 National bus operator First Bus, is releasing a new travel information app to include multi-modal travel information and a door-to-door journey planner in a bid to make it easier for people to catch the bus.
First Bus currently has two apps available for customers and will be making major improvements to its mobile offering over the course of this year. The first phase of these updates sees changes to the First Bus Travel Information app, which is available to download now.
The updated First Bus Travel Information app will be much easier for users to navigate with their most frequently used information available with one click. Key features of the app will include:
Multi-modal door-to-door journey planning covering all modes (i.e. bus, rail and tram) and all operators across the UK
Mapping progress along a bus route towards a user's destination on Google Maps
Users favourite bus stops
Bus stops nearby within a set walking radius (this can be set to 5, 10 or 15 minutes)
Walking directions to the required bus stop
Save favourite journeys made and destinations travelled to
Travel Service Alerts
Commenting about the update to the First Bus Travel Information app, James Timperley, Director of Retail Development at First Bus, said: "We're thrilled to be launching this update to our Travel Information app. Our aim is to make it easier for customers to catch the bus and we believe this update to our app helps to remove some of the key barriers our customers face when trying to use our services.
"We have worked with The App Business, Transport API and Google to develop the new version of the Travel Information app and in doing this we have been able to utilise their knowledge of transport data to ensure that we have an accurate, easy to use and reliable app for our customers.
"We look forward to gathering feedback from customers and being able to integrate it into the development process as part of the ongoing commitment to develop and improve our customer facing apps."
David Tuck, Commercial Director at The App Business, adds: "The release of the new First Bus app is the latest output in a long-running collaboration we are very proud of at The App Business. It's a transformative piece of work; not only for customers, who will be able to plan their journeys and travel more easily across the UK on multiple modes of transport, but also for what it means for First Group's mobile offering across the board."
About First Bus
Across the UK First Bus operates in a huge number of communities, including 40 of the country's largest towns and cities.
You can travel by First Bus in Aberdeen, Glasgow, Edinburgh, York, Sheffield, Leeds, Manchester, Swansea, Portsmouth, Southampton, Stoke, Leicester, Bristol, Norwich, Ipswich, Colchester, Plymouth, Taunton and many other cities, towns and villages.