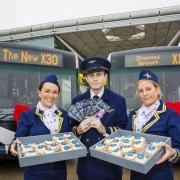 12 brand new, state of the art, single deck buses are being introduced on services X10 and X30 from 22nd November, as local bus operator First Essex and Stansted Airport invest £1.9m to improve buses on the corridor between the airport and south Essex.
People living in Chelmsford, Basildon, Wickford and Southend are expected to widely welcome the new vehicles with their additional customer friendly features, such as: luxurious leather seats, USB Charging Points and free Wi-Fi, providing customers with free internet access during their journey. In addition, there will be a dedicated space for wheelchair users, pushchairs and luggage. The service will also benefit from a brand new sleek, eye-catching livery.
The services will run throughout the day, night and early morning, every day of the week on every day of the year (excluding Christmas Day). With journey times of just 35 minutes from Chelmsford and 80 minutes from Basildon to Stansted, First Essex is confident of converting Stansted staff, frequent flyers and holiday makers out of their cars and on to the bus as they journey to and from the airport.
Journey times to the airport:
| | | | |
| --- | --- | --- | --- |
| X10 Chelmsford to Stansted | 35 mins | X30 Chelmsford to Stansted | 35 mins |
| X10 Wickford to Stansted | 60 mins | X30 Rayleigh Rail Stn to Chelmsford | 25 mins |
| X10 Basildon to Stansted | 80 mins | X30 Southend to Chelmsford | 60 mins |
All 12 new buses will be fitted with the latest Euro VI engines*, which produce 95% less oxides of nitrogen (NOx) emissions compared to buses with Euro V engines and as a result will help improve air quality on the route.
Alex Jones, Managing Director of First Essex, said: "I am pleased and excited to be introducing 12 brand new buses to services X10 and X30 from 21st November – this is good news for customers. This investment is a great example of how working with our partners at Stansted Airport and Essex County Council, we have been able to improve the journey experience for our customers travelling to and from the airport. The service will provide a cost effective, fast, frequent journey for commuters, holidaymakers and staff working at the site.
"We're confident that these new vehicles will encourage more people to travel to and from Stansted by bus. We anticipate carrying around 7000 passengers a week which will help remove cars from our roads, reduce congestion and help improve air quality in the area."
Steve Mills, passenger services manager at Stansted Airport, said: "We are delighted to see these latest buses being rolled out on First Essex's X10 and X30 airport services. Over half of air passengers currently travel to Stansted Airport by public transport – that's the highest figure for any major airport in the UK, and one of the best in Europe. The improved comfort and on-board facilities that these new vehicles bring will make this an, even more, attractive option for people living in Southend, Basildon, Wickford and Chelmsford."
John Pope, Chairman of the Stansted Area Transport Forum, said: "As Stansted grows more and more passengers are choosing to travel to the airport by bus and coach and the industry and local authorities have responded by improving services and the range of destinations. It's very important that we continue to provide high quality routes like the X10 and X30 links to meet this demand as bus and coach services play an important part in Stansted's wider surface access strategy."
Cllr Eddie Johnson, Essex County Council Cabinet Member for Highways and Transport, said: "We welcome this investment to create a modern transport network for Essex to help support economic growth across the county. It is heartening to see businesses like First and Stansted Airport working together and investing in the future to improve the level of service on offer to the customer. Residents will benefit from a new direct service for Basildon and Wickford to the airport as well as an increased frequency from Chelmsford. I look forward to seeing sustainable coach and bus travel continue to grow and support the record passenger numbers we have seen in recent years at Stansted Airport."
About First Bus
Across the UK First Bus operates in a huge number of communities, including 40 of the country's largest towns and cities.
You can travel by First Bus in Aberdeen, Glasgow, Edinburgh, York, Sheffield, Leeds, Manchester, Swansea, Portsmouth, Southampton, Stoke, Leicester, Bristol, Norwich, Ipswich, Colchester, Plymouth, Taunton and many other cities, towns and villages.