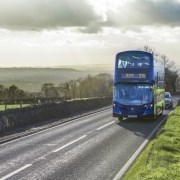 After being crowned 'Low Carbon Vehicle Operator of the Year' at the much respected Low Carbon Champion Awards last month, the UK's leading bus operator, First Bus, has been nominated for a total of 12 prizes at the UK Bus Awards, the bus industry's equivalent of the Oscars.
First Bus has achieved a variety of nominations including Making Buses a Better Choice, the Marketing Award and the Environment prize. First Bus colleagues are also short-listed in the Top Driver and Young Manager of the Year categories.
Managing Director of First Bus, Giles Fearnley, said: "Across all corners of our operations our teams are working hard to deliver great bus services for our customers. I'm therefore very proud that the talent and commitment of my colleagues, and their efforts to encourage more people to use the bus, have been recognised with 12 nominations across a wide variety of categories at the Bus Oscars.
"I'm especially pleased that of the three shortlisted Local Authority Bus Project of the Year entries, First Bus features in two. Across the UK forming every stronger partnerships with local councils is top of our agenda – working together is absolutely key to achieving bus passenger growth, modal shift and battling the increasing problem of congestion in our town and city centres.
"I was delighted that First Bus won the 'Low Carbon Vehicle Operator of the Year' title last month and we're very hopeful of celebrating some more success at the UK Bus Awards in November."
Those shortlisted from First Bus are:
Community Award: First Essex; Air Ambulance Partnership
Community Award: First Midlands; Foodbank Partnership
Environment Award: First Bus; New environmentally friendly vehicles
Making Buses a Better Choice: First Hampshire; Eclipse Services
Marketing Award: First Hampshire; Southampton City Reds
Marketing Award: First West of England; Mendip Explorer
New Horizons Award: First Aberdeen; Colleague App
Top Driver: First Aberdeen; Ian Walker
Top Driver: First Essex: Michael Kudia
Young Manager of Year Award: Matthew Elsey
Local Authority Bus Project of Year: West Yorkshire Combined Authority and Partners, including First West Yorkshire; Elland Road (Leeds) Park & Ride
Local Authority Bus Project of Year: Aberdeenshire Council and partners, including First Aberdeen, Grasshopper Multi-Operator Ticketing
The winners of the UK Bus Awards will be announced at a ceremony in central London on 23 November 2016.
About First Bus
Across the UK First Bus operates in a huge number of communities, including 40 of the country's largest towns and cities.
You can travel by First Bus in Aberdeen, Glasgow, Edinburgh, York, Sheffield, Leeds, Manchester, Swansea, Portsmouth, Southampton, Stoke, Leicester, Bristol, Norwich, Ipswich, Colchester, Plymouth, Taunton and many other cities, towns and villages.