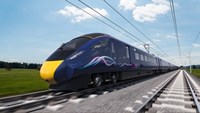 Passengers on the East Coast Main Line are to benefit from the arrival of five brand new Inter City trains, following completion today of a £60 million deal between FirstGroup and Hitachi Rail Europe, financed by Angel Trains.
The new vehicles will offer Hull Trains passengers extra seats, with 61 more per train.
Hitachi will build five AT300 trains of five carriages each, operating as 'bi-modes' –– meaning they will be able to run on either electric or diesel power.
The new vehicles are expected to come into service in 2019 and would be able to travel on the electrified East Coast Main Line from London King's Cross and then on diesel power on the unelectrified line to Hull and Beverley.
As part of the agreement, the new trains will be fully maintained by Hitachi at its new facility at Bounds Green, north London. Hitachi will build the trains at their manufacturing facility in Newton Aycliffe, County Durham.
The benefits of the new trains include:
More seats – 327 seats per train, 20% more than the current services
Greater comfort – new interiors, air conditioning, Wi-Fi, power sockets
Quieter and more environmentally friendly – electric power is quieter with lower emissions
Reduced journey time possible – the new trains will have faster acceleration and a higher top speed of 140mph
Hull Trains was crowned the UK's Rail Operator of the Year last month at the National Transport Awards. It consistently scores amongst the highest customer satisfaction levels of any operator in the country and the ORR recently granted a further ten year track access from 2019, giving the business and its customers certainty of services until December 2029.
FirstGroup was also successful recently in a separate application to the ORR on new open access plans to operate five trains throughout the day each way between London King's Cross and Edinburgh, designed to compete with low-cost airlines and open up rail travel between the two capitals to thousands of new passengers.
Steve Montgomery, FirstGroup's Rail Division Managing Director, said: "Hull Trains is a great success story and its enduring high customer satisfaction scores really demonstrate how open access rail services can deliver for passengers in certain markets. These are exciting times for Hull Trains as the city of Hull moves towards UK City of Culture status in 2017.
"The new trains we are introducing will provide 20 per cent more seats for our customers and also offer the potential for faster journeys. We also intend to invest in the current Hull Trains fleet to ensure they are fit for the next three years."
Will Dunnett, Managing Director of Hull Trains, said: "Hull Trains is a leading operator for passenger service and reliability and this latest enhancement of our fleet forms part of a multi-million pound investment to keep the Hull and Humber region connected to the capital with certainty of fast, direct services, seven days a week.
"The new bi-mode units will bring the economic, social and connectivity benefits of electrification to the region now, including more sustainable trains, more jobs for local people and an ever better experience for customers.
"In keeping with our commitment to innovation we will also be introducing various technological advancements to further improve the customer experience over the coming year."
Karen Boswell, Managing Director of Hitachi Rail Europe said: "Customers travelling on Hull Trains services between Yorkshire and London will enjoy a host of benefits from new Hitachi Inter City trains, which are modernising rail travel on routes across the UK. These trains have been designed to increase the number of seats available whilst harnessing the latest in comfort design to boost passenger experiences.
"Using our innovative bi-mode power model, these trains can begin operation immediately on the UK rail network which means passengers won't have to wait to enjoy the new benefits.
"This is the start of a long-term relationship between Hitachi and Hull Trains and, following our recent train and maintenance order from FirstGroup's TransPennine Express franchise, another sign of our strong commitment to the Northern Powerhouse."
Malcolm Brown, CEO of Angel Trains, said: "Angel Trains is delighted to be financing, procuring and leasing the new Hitachi Inter-City Trains to expand the Hull Trains' fleet. The deal will provide more seats whilst improving the experience for passengers. Critically, it will also support jobs in the North of England where the new rolling stock will be built. Angel Trains has already financed £4.7 billion worth of improvements to the UK rail industry since privatisation and this new contract is a further demonstration of our commitment to increasing capacity, enhancing passengers' experience and value, while providing long-term employment."
About First Group
FirstGroup plc is the leading transport operator in the UK and North America and our services help to create strong, vibrant and sustainable local economies. During the last year around 2.4 billion people relied on us to get to work, to education, to visit family and friends and much more and, each day, every one of our 110,000 employees works hard to deliver vitally important services for our passengers.
Our vision is to provide solutions for an increasingly congested world… keeping people moving and communities prospering.
FirstGroup is one of Britain's largest bus operators with around a fifth of bus services outside London. A fleet of some 6,300 buses carries approximately 1.7 million passengers a day in a huge number of communities including 40 of the UK's largest towns and cities. We operate some US-style yellow school buses and have a fleet of coaches available for charter. We also operate the Aircoach network in Ireland.