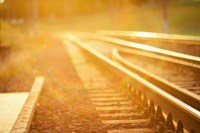 Rail passengers will start to benefit from a brand new fleet of trains on Monday, as part of GWR's commitment to delivering more capacity and faster, more frequent services.
The first two of 45 Class 387, or GWR Electrostar, trains will provide an additional 1,400 seats between Hayes & Harlington and London Paddington at the busiest times every day for commuters. Further improvements will be seen across the Thames Valley as the trains gradually replace the Turbo trains currently in use in the region.
Great Western Railway managing director, Mark Hopwood said:
"The Thames Valley is one of the most popular rail corridors in the UK.
"We have promised the current fleet would be upgraded to provide much needed additional capacity and faster journey times, and I am delighted to say the first of these new electric trains will come into service in just a matter of days."
The trains will deliver consistent, high quality travel for customers across the Thames Valley, offering at-seat power sockets, air conditioning, extra luggage space and free WiFi for customers. They can be run in four, eight and 12 carriage formations, with the latter providing 97 more seats per train than the longest Turbo today.
The move is part of the biggest fleet upgrade in a generation on the Great Western network, helping to drive improved journey times, increased capacity and greater comfort.
Rail Minister Paul Maynard said:
"We are making the biggest investment in the railways since the Victorian era to modernise the network and deliver better journeys.
"The introduction of Great Western Railway's first new Class 387 trains built by Bombardier in Derby is a great example of our investment. It will offer more seats, greater comfort and better reliability for passengers."
GWR finalised a multi-million pound deal with train manufacturer Bombardier and leasing company Porterbrook in July 2016 for 37 Class 387 four-carriage trains, joining eight already ordered by GWR, and they will replace the current fleet of Turbo trains.
The existing Turbo trains will be cascaded to other parts of the GWR network, providing additional capacity where it is needed most.
The new trains will initially operate eight services a day between Hayes & Harlington and London Paddington, in eight-car formations, from Monday 5 September.
Hayes to Paddington
Dpt 0718 Arr 0741
Dpt 0748 Arr 0810
Dpt 1924 Arr 1944
Dpt 1954 Arr 2014
Paddington to Hayes
Dpt 0715 Arr 0733
Dpt 1718 Arr 1739
Dpt 1848 Arr 1909
Dpt 1915 Arr 1936
About First Group
FirstGroup plc is the leading transport operator in the UK and North America and our services help to create strong, vibrant and sustainable local economies. During the last year around 2.4 billion people relied on us to get to work, to education, to visit family and friends and much more and, each day, every one of our 110,000 employees works hard to deliver vitally important services for our passengers.
Our vision is to provide solutions for an increasingly congested world… keeping people moving and communities prospering.
FirstGroup is one of Britain's largest bus operators with around a fifth of bus services outside London. A fleet of some 6,300 buses carries approximately 1.7 million passengers a day in a huge number of communities including 40 of the UK's largest towns and cities. We operate some US-style yellow school buses and have a fleet of coaches available for charter. We also operate the Aircoach network in Ireland.