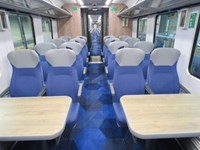 TransPennine Express (TPE) have launched their first refurbished train as part of an overhaul of its entire fleet for customers across the North.
The full 'Class 185' fleet of trains are now going through a phased refurbishment programme, and over the next few weeks and months customers will start to notice the new trains more and more as every one of the 51 units receives a full modern makeover.
TPE's upgrade project is a £32million investment in the fleet, working with manufacturing company Siemens, and train owner Eversholt Rail, to create a special and improved experience for customers.
The upgrades include brand new seats throughout, including leather in first class, and real practical benefits such as: standard plug and USB sockets at every pair of seats, both in standard and first class; bigger tables to allow more space for laptops and devices; refitted toilets; and LED lighting throughout.
Once the full programme of upgrades is completed in 2018, the trains will be fitted with even more improvements including information screens, and free, fast Wi-Fi and an on-board entertainment system.
TPE's vision is 'taking the North further', and the company has worked with local suppliers from across the North to complete the refurbishment. The quality is extremely high, with standard class seat fabrics made by Camira Fabrics, based near Huddersfield, and the first class curtains are made by A.W. Hainsworth, who are based in Pudsey.
Paul Staples, Fleet Director for TransPennine Express, said: "I'm thrilled to have launched the first of the enhanced trains. I am proud of what we have achieved with Siemens, Eversholt Rail and all of the local companies supplying material and expertise to create this leap forward in journey experience for everyone in the North as part of the new TransPennine Express. This is just the start, though; over the next year all of the Class 185 trains will get this upgrade and over the next three years we will introduce 44 brand new trains, giving our customers more carriages, more seats, better reliability and more comfortable, enjoyable, productive journeys with us in the North."
Stephen Timothy, Client Relations Director at Eversholt Rail commented: "We are delighted to continue to support TransPennine Express by investing further in our Class 185 fleet. The quality of these refurbished trains will transform the customer environment and experience in line with TPE's vision to take the North further. We look forward to working in partnership with TPE and Siemens to deliver the full programme."
Pete Redding, Fleet Operations Director (North) for Siemens, said: "We are delighted that the first newly refurbished Class 185 train has re-entered service, enabling customers to start benefiting from the significantly enhanced interior environment. The Siemens team at our train production facility in York and contractors working on our behalf are looking forward to giving each of our 51 trains a modern new look in the months ahead."
About First Group
FirstGroup plc is the leading transport operator in the UK and North America and our services help to create strong, vibrant and sustainable local economies. During the last year around 2.4 billion people relied on us to get to work, to education, to visit family and friends and much more and, each day, every one of our 110,000 employees works hard to deliver vitally important services for our passengers.
Our vision is to provide solutions for an increasingly congested world… keeping people moving and communities prospering.
FirstGroup is one of Britain's largest bus operators with around a fifth of bus services outside London. A fleet of some 6,300 buses carries approximately 1.7 million passengers a day in a huge number of communities including 40 of the UK's largest towns and cities. We operate some US-style yellow school buses and have a fleet of coaches available for charter. We also operate the Aircoach network in Ireland.