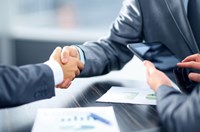 FirstGroup and MTR announce that Andy Mellors has been appointed as Managing Director of the new South Western rail franchise, which launches on 20 August.
Andy Mellors has 25 years of experience in the industry. He has held a number of senior leadership roles since joining FirstGroup in 2002 and is currently Engineering Director and Deputy Managing Director at Great Western Railway, having previously held a similar role at First ScotRail. Most recently, he has been responsible for leading the transformation of the GWR rolling stock fleet both through the introduction of new electric trains in the Thames Valley, and the imminent entry into service of the Intercity Express Trains – the first major intercity fleet to be introduced on the UK rail network for many years. This experience will be vital given the exciting plans for a brand new fleet of 90 trains, consisting of 750 carriages on the franchise, plus a refurbishment of existing rolling stock. Andy is a Chartered Engineer and a Fellow of the Institution of Mechanical Engineers.
Commenting, Steve Montgomery, Managing Director First Rail said: "I am delighted to announce the appointment of Andy as Managing Director of the new South Western franchise. Andy has an exceptional track record of improving rail services for passengers. He will head up an experienced team that will introduce our exciting plans for better customer journeys, and keep people moving and communities prospering across the South Western network."
Commenting, Jeremy Long, CEO – European Business, MTR said: "We're delighted that Andy has agreed to come on board. His track record speaks for itself and will help us deliver the excellent services passengers want to see."
Commenting, Andy Mellors said: "I look forward to leading the team at the new FirstGroup and MTR South Western franchise, and to build on the respected foundations established by the current South West Trains employees. We will offer the tangible benefits that customers and stakeholders have told us they want, on a key part of the country's railway network which connects London to key towns and cities across the region. Passengers on our franchise can look forward to new and better trains, more seats and services, quicker journey times, enhanced stations and more flexible fare options."
About FirstGroup
FirstGroup plc (LSE: FGP.L) is a leading transport operator in the UK and North America. With £5.7 billion in revenue and more than 100,000 employees, we transported around two billion passengers last year. Each of our five divisions is a leader in its field: In North America, First Student is the largest provider of student transportation with a fleet of around 44,000 yellow school buses, First Transit is one of the largest providers of outsourced transit management and contracting services, while Greyhound is the only nationwide operator of scheduled intercity coaches. In the UK, First Bus is one of Britain's largest bus operators, transporting 1.6 million passengers a day, and we are one of the country's most experienced rail operators, carrying around 130 million passengers last year.
About MTR Corporation
MTR Corporation is headquartered in Hong Kong and is acknowledged as one of the world's leading operators of metro, commuter, inter-city and airport rail systems with rail operations in Hong Kong, China, Australia, Sweden and the UK. It is also a property developer, and manages shopping malls, retail units, apartments and other major buildings along some of its lines. In the UK, MTR is the operator of the Elizabeth Line concession (the name for the Crossrail route), and currently runs TfL Rail services between Liverpool Street and Shenfield. MTR was a joint venture partner in London Overground Rail Operations Ltd (LOROL) between November 2007 and November 2016. Listed on the Hong Kong stock exchange, MTR has a market capitalisation of approximately £22.3 billion, and is included on the FTSE4Good and Dow Jones Sustainability Indexes. It won over 50 awards in 2016 for quality, customer service and sustainability.