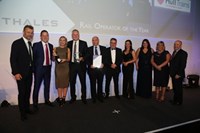 Hull Trains named Rail Operator of the Year
European Green Capital partnership wins Contribution to Sustainable Transport award
Transport operator FirstGroup has received two major accolades at the National Transport Awards.
Hull Trains, owned by FirstGroup, secured the top rail award, being named Rail Operator of the Year. The open access provider has topped passenger satisfaction tables and achieved first place in the National Rail Passenger Survey for the last three years.
First West of England and Great Western Railway's partnership for the Bristol 2015 European Green Capital year – which included the introduction of a bio-methane "poo bus" – was highlighted as the Best Contribution to Sustainable Transport.
Hosted by actor and comedian Hugh Dennis on 14 October, the awards attracted more than 700 senior transport professionals including the new Secretary of State for Transport Chris Grayling, who provided the keynote address.
Commenting on the successes, FirstGroup Chief Executive Tim O'Toole said: "We were honoured to receive awards that recognise not just the excellence of our operational teams but also the efforts we have made to improve sustainability in the communities in which we work.
"Hull Trains is a great example of how customer focused train operators can make a genuine difference for passengers. The team's enterprising approach and consistent performance in customer satisfaction is the envy of industry and the Hull Trains team should feel proud of what they have achieved.
"The partnership with Bristol's European Green Capital was a significant highlight for FirstGroup over the last year. Through that partnership, we invested £15m into new, efficient vehicles that have significantly reduced emissions. I look forward to seeing the legacy of this partnership continue into the next year and beyond.
Will Dunnett, Managing Director of Hull Trains, said: "Rail Operator of the Year is the award that the rail industry covets most and we were able to succeed from a field of more than twenty passenger and freight operators. This gives us yet another reason to be flying the flag for the Humber region. The award recognises that customer satisfaction and reliability is key to a successful long-distance service.
"It's clear to me that we are in this position because we have a dedicated, passionate team that place our customers at the heart of everything we do. We're delighted that the rail industry has recognised what we and our customers have known for some time; that Hull Trains is and continues to be Britain's best loved and most successful rail operator."
James Freeman, Managing Director of First West of England, said: "Through our partnership with Bristol Green Capital, we were able to begin a huge investment in our low emission vehicles. Our ultimate aim is to use the initiatives we introduced to encourage many more people to take advantage of the benefits of public transport."
FirstGroup partner organisations also enjoyed success on the evening:
Transport for Greater Manchester and Balfour Beatty claimed the Construction and Engineering Project of the Year award for the Vantage guided bus route, operated by First Bus.
Bus manufacturer Alexander Dennis received the Excellence in Technology award for its Virtual Electric zero emission buses. First Bus in Bristol was one of the first to adopted the vehicle.
Network Rail won Station of the Year for Manchester Victoria; a major station on FirstGroup's TransPennine Express network.
Chris Grayling, during his keynote address, said: "Transport has a unique power to make people's lives better. It connects us with family and friends. It links us with jobs and schools. It helps businesses reach new markets. And it drives economic growth and prosperity."
About First Group
FirstGroup plc is the leading transport operator in the UK and North America and our services help to create strong, vibrant and sustainable local economies. During the last year around 2.4 billion people relied on us to get to work, to education, to visit family and friends and much more and, each day, every one of our 110,000 employees works hard to deliver vitally important services for our passengers.