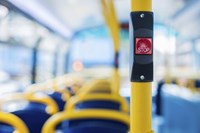 City of York Council and First York are set to extend their partnership delivering York's Park & Ride service after the bus operator successfully bid for the seven year contract commencing in early 2018.
The new partnership agreement will see fully electric buses operating on three of the six routes, with brand new Euro 6 diesel buses completing the Park & Ride fleet. To help make journeys quicker and easier for passengers, First York have committed to complement the existing range of cash, smartcard and mobile ticket options with contactless bank-card technology.
Alongside this the new buses will also have displays providing useful information for passengers including details about the next bus stop, service data and other useful local information.
Overnight parking will also be introduced at the Askham Bar and Monks Cross Park & Ride sites giving visitors the ability to park at the site en-route to their hotel accommodation, or to access the rail network for a journey elsewhere lasting more than one day.
Executive member for transport and planning, Cllr Ian Gillies, said: "Since 2016 we have seen over 4.6 million passenger journeys on the city's Park & Ride service. This new agreement between the council and First Bus York will help to reaffirm our position as having one of the best and most well used Park & Ride services in the country."
Marc Bichtemann, Managing Director at First York, said: "We're proud to have been selected to continue to operate the York Park & Ride scheme, which is one of the most successful in the country. We will continue to offer customers a high quality and reliable service through the strong and effective partnership that we hold with City of York Council. In line with the new contract, we will be introducing new ultra-low emission vehicles onto the network which will improve air quality for York residents.
"We will be trialling a new electric double decker over the next month with a view to introducing these to Monks Cross and Poppleton Bar in the New Year, as we continue to support the council in its aim to improve air quality by reducing emissions and encouraging car users to switch to bus travel."
The bid was approved by the executive at a council meeting on Thursday 18 May and the new contract arrangements are set to commence in February 2018.
The competitive tender process took place earlier this year with bus operators given the opportunity to bid for the new contract.
York is one of only a handful of P&R operations which returns revenue (income) back to the council, generating £39k in 2017/8. However, because the income will be lower in 2018/19 than in previous years, the council will need to allocate an additional £85k in its budget in that year.
About First Bus
Across the UK First Bus operates in a huge number of communities, including 40 of the country's largest towns and cities.
You can travel by First Bus in Aberdeen, Glasgow, Edinburgh, York, Sheffield, Leeds, Manchester, Swansea, Portsmouth, Southampton, Stoke, Leicester, Bristol, Norwich, Ipswich, Colchester, Plymouth, Taunton and many other cities, towns and villages.