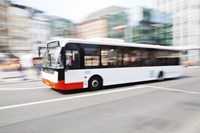 EDF Energy has confirmed that it has awarded a ten-year contract to 'Somerset Passenger Solutions', a 50/50 joint venture between bus operator First Bus and family business Crosville Motor Services (part of the JJP Group), to provide bus services during the construction of the new nuclear power station.
Under the new contract, Somerset Passenger Solutions will operate high frequency services for employees to Hinkley Point C from dedicated Park and Ride sites, staff campus accommodation sites and from surrounding towns and villages for employees living across the area. The joint venture will also provide internal site shuttles and transport for visitors from airports, railway stations and hotels.
EDF Energy estimates that around 25,000 job opportunities will be created during the construction of the new power station and around 5,600 people will be employed on site at peak.
Around 300 dedicated staff will be required by Somerset Passenger Solutions and a recruitment campaign will begin immediately. First Bus and Crosville will order up to 160 brand new, high spec, environmentally friendly buses as part of their contract.
Jonathan Jones Pratt, Chairman of Crosville Motor Services (part of the JJP Group), said: "This is great news for our company and this region of the UK, especially given the local training legacy that we will bring to the table. Our joint venture brings together unique skills and experiences. I'm delighted that our partnership and the good work we've been doing in providing bus services to the site under the current interim contract has been recognised."
Alex Carter, Managing Director of First Bus in the South West, said: "I'm delighted that with our partners Crosville, we're officially confirmed as bus service provider for the Hinkley Point C Project. This contract is great news for our business and the wider community, and will help to secure and create jobs. We look forward to providing EDF Energy's employees with simple, seamless, frequent and reliable bus services during the construction period."
Crosville first engaged with EDF Energy nearly six years ago and was awarded interim contract status in 2014. Crosville then invited First Bus to form a joint venture, 'Somerset Passenger Solutions' in June 2014 in response to the release of scope of the main contract. By awarding the partnership preferred bidder status followed by confirmation of the contract, EDF Energy has recognised the quality of service that has been provided to date and the joint qualities that both companies bring to the partnership.
About First Bus
Across the UK First Bus operates in a huge number of communities, including 40 of the country's largest towns and cities.
You can travel by First Bus in Aberdeen, Glasgow, Edinburgh, York, Sheffield, Leeds, Manchester, Swansea, Portsmouth, Southampton, Stoke, Leicester, Bristol, Norwich, Ipswich, Colchester, Plymouth, Taunton and many other cities, towns and villages.