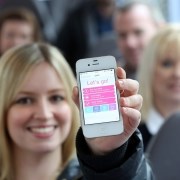 The UK's leading operator, First Bus, has launched one of its biggest ever marketing campaigns to raise awareness of how it's transforming the customer experience through innovative new technology, including its mTicket and bus tracker apps, free on board wi-fi and an on-line journey planner.
First Bus hit the accelerator on the campaign this week by promising customers speedier bus journeys, despite the high profile congestion issues across the UK, if passengers switch from paying fares by cash to mTickets, which enables customers to use their mobile phones as bus tickets.
The company, which carries some 1.6m passengers a day, made the promise after running a demonstration to compare the time it takes to board 50 people onto a bus with customers paying by cash versus customers using mTickets. The results were revealing - boarding 50 cash customers took 10.5 minutes, while 50 customers using their smartphones took 2.5 minutes – a massive eight-minute reduction, some 75 per cent.
First Bus said that if enough passengers make the switch, boarding times will become so much quicker that average journey times will reduce, even with the ever increasing number of cars on the roads causing congestion. Despite it being a relatively new payment option, already around 1million First Bus passenger journeys a week currently are paid for via mTickets.
Managing Director of First Bus, Giles Fearnley, said: "Our demonstration has proved that converting customers from cash to mTickets or other forms of smart ticketing has a huge impact on boarding times and will help us in the battle to speed up the bus, despite the very stark congestion issues that we face. Boarding 50 customers in just 2.5 minutes using mTickets, eight minutes quicker than cash, is a huge step forward and gives us real opportunity to speed up bus journeys and maintain a competitive advantage over the car."
Giles continued: "We are determined to transform the experience for all our customers and I am delighted that technology is now able to deliver so many benefits for our passengers. The combination of journey planning, free wi-fi, real time information and mTickets really does make the bus an increasingly attractive option for so many journey needs."
The 'catch the bus with less fuss' marketing campaign raises awareness of a range of simple to use technology that is helping First Bus transform bus journeys. The campaign, which includes TV adverts, web banners and social media, focuses on:
'First Travel App' which allows customers to track in real time the progress of their service and therefore arrive at the bus stop when the bus does.
'First mTicket' app, which allows customers to purchase tickets 24/7. Passengers simply activate their ticket when the bus arrives and show the driver their ticket displayed on their mobile phone screens.
Free on board wi-fi, now available on around 60% of First Bus vehicles.
And the Journey Planner facility which allows customers to plan their journeys, across all modes of public transport, not just First Bus services.
About mTickets
The 'First mTicket' app is easy to use and is available for free for Apple, Windows and Android smart phones. Customers simply download the app, register, select from a variety of tickets, and navigate the secure payment system. Before boarding customers can activate a pre-purchased ticket (no internet connection is required) and show the dri
ver the activated ticket. Repeat users need only select the required ticket and confirm their debit/credit card's security code. Benefits of using the app include:
Users don't need to worry about losing their bus ticket – it's on their phone.
Users can buy tickets 24/7 and simply 'activate' when ready.
No need to worry about having change for the bus.
Quicker boarding.
*About the First Bus Boarding Times Demonstration
On 6 October 2016, First Bus ran an experiment with volunteers to see how long it takes to load a bus with people paying by cash, and then the same number people boarding using the smartphone app. It took approximately 10.5 minutes with people paying by cash and 2.5 minutes with the mTicket app.
About First Bus
Across the UK First Bus operates in a huge number of communities, including 40 of the country's largest towns and cities.
You can travel by First Bus in Aberdeen, Glasgow, Edinburgh, York, Sheffield, Leeds, Manchester, Swansea, Portsmouth, Southampton, Stoke, Leicester, Bristol, Norwich, Ipswich, Colchester, Plymouth, Taunton and many other cities, towns and villages.