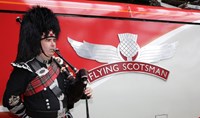 Virgin Trains, which runs a four-hour 'Flying Scotsman' express service from Edinburgh to London, has re-liveried a locomotive to promote rail travel to and from Scotland.
This marks a major milestone in the 'Virginising' of its fleet of trains into a distinctive Virgin red, as it continues to attract more people to travel on its trains, particularly between two of the UK's capital cities.
Today's unveiling took place at Edinburgh Waverley station on the same day that Virgin Trains announced a £16m contract to refurbish engines for its High Speed Trains, which are serviced and maintained at its Edinburgh depot.
Nicola Sturgeon, First Minister of Scotland, said: "For over 150 years the Flying Scotsman service has connected Edinburgh and London by the historic East Coast rail route. It is wonderful to see the name of the Flying Scotsman train kept alive on the route with a new, contemporary design. "I am also delighted that the refurbishment of Virgin's diesel engines will draw on the local skills and talents of the Craigentinny workforce."
David Horne, Managing Director at Virgin Trains on the east coast route, said: "We are thrilled to continue the legendary name of the Flying Scotsman.
"Flying Scotsman trains brought style to the railways for many years. Our new train is a design twist on the legendary Flying Scotsman, recreating the glamour of rail travel for the 21st century, using our distinctive Virgin brand and style.
"The re-livery of our fleet in Virgin red is now almost complete, but we felt we just had to create a unique look to promote our Flying Scotsman and travel to and from Scotland.
"We look forward to welcoming customers on-board and providing them with a great Virgin customer experience."
Virgin Trains has signed a £16m deal with engine manufacturer MTU to refurbish all 35 diesel engines for its fleet of High Speed Trains. The engines will be fitted at its Craigentinny depot, in Edinburgh over the next two years.
David Horne added: "This new engine replacement programme will ensure the continued strong performance of Virgin Trains' High Speed Train fleet until the introduction of new Super Express Trains from 2018.
"We are pleased that the work to install the engines, which will also be in Virgin red, will take place in Edinburgh. We continue to play a key role in the economy of the Capital and Scotland as a whole, where more than 700 of our workforce are based."
About Virgin Trains East Coast
Virgin Trains East Coast (legal name InterCity Railways Limited) is a train operating company in the United Kingdom that operates the InterCity East Coast franchise on the East Coast Main Line between London, Yorkshire, the North East and Scotland. It commenced operations on 1 March 2015, taking over from East Coast. Virgin Trains East Coast is a joint venture between Stagecoach (90%), and Virgin (10%).